Deal's Gone Bad
Overboard (Jump Up! Records)
By: Alex Steininger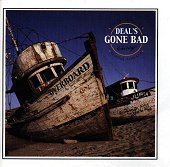 Reggae/rock steady act Deal's Gone Bad are back with their sophomore release, OVERBOARD, an album that finds the band's danceable antics still coupled with their rock 'n' roll appetite. Mixing in plenty of rock charm amidst their sweaty dance sound, the band shows no signs of tiring as they keep you dancing for thirty-six minutes.

"I'm Sorry" is a soulful rock steady cut sure to start the dancing immediately. "Better Off" is a rich, simmering nugget vibrant with energy and perfect to wrap your body around and hit the dance floor too. "Loverboy" is yet another soulful mixture of reggae and rock steady, ensuring they make perfect bedfellows.

"Stop and Listen," "Honest Woman, Honest Man," and "Shiver Me Timber" are prime examples of the band's musicianship. When the organ is present it sparkles. The vocals sound like they're straight out of a pub rock band, drunk off of plenty of lager and having fun doing what it's doing, while the rhythm section is only content if there is a danceable groove for the audience to feed off of.

If you want to smile and dance, and have good drinking music, Deal's Gone Bad are a surefire way to enjoy yourself. They know how to sit back and have fun. Never weighing down the songs with anything to overtly serious, they are about fun, and so will you be while listening to this album. I'll give it a B-.