P.J. Olsson
P.J. Olsson (Red Ink)
By: Alex Steininger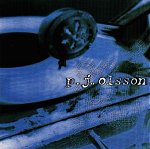 P.J. Olsson is an experimental artist, plain and simple. His music is neither folk-pop nor electronica, but a combination of these musical ideas, as well as many more. Lyrically sound, with plenty of hooks, the pop portion of the music will have you singing along, while the others will have you dancing and smiling.

Opening up with "Visine," PJ puts forth plenty of hooks with an electronica percussion beat backing him up. The acoustic guitar leads the way, as does his vocals, and the rest of the band follows in unison. Trippy at times, the song defies all genres it borrows from.

Then there is "Plastic Soul," which begins like another acoustic pop-rock song, but with the addition of the percussion soon transforms into something more. Smooth vocals swallow you whole, while the enticing beats charge your pulse and keep you moving along with each note.

"Why Say Three" continues with the eclectic folk fused rock that PJ develops throughout. Not as jumpy and electrifying as the past tracks, the song settles down and steps even further in to the folk and pop realms it plays so perfectly in. His vocals are even softer, darker, and smoother. The song is gentle and relaxing, busy and energetic, as well as charming. You could just imagine it tearing up the Top-40 charts on both VH-1 and MTV.

Closing with "Yesterday," everything comes full circle with this very easy-going dance-rock number that is perfect for slow dances, relaxing on the sofa with a beer, or driving along in your car with this blasting to calm your nerves.

When I first listened to this disc I wasn't sure what to think. But, as I kept listening, his talent and love for music helped propel his music into a category truly his own. Sure, reviewers will say this a lot, but, although this might sound cliched, it's the truth here. I'll give this album an A-.