P.F. Sloan
Child Of Our Times: The Trousdale Demo Sessions (Varese Sarabande)
By: Gary "Pig" Gold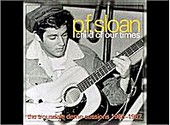 After several years of frustrating delay, the ever-keen-eared folk at Varese Sarabande have finally presented this splendid-and-a-half collection of song sketches by the '60s best-known unknown composer.

Cut primarily as publishing demos between A.D. '65 and '67, the proceedings only falter slightly about halfway through (I never was much a fan of the man's dime-store Dylanisms, "Eve Of Destruction" certainly notwithstanding). Nevertheless, there's enough utterly charming Grass Roots and Herman's Hermits cast-offs throughout to win over even the most cynical Barry McGuire-basher ...and the demos of "You Baby" and "Secret Agent Man" are pure, unadulterated mop-topped magic.

Now: Where's that full-fledged Fantastic Baggys boxset, huh?!!