P.M. Dawn
Dearest Christian, I'm So Very Sorry For Bring You Here. Love, Dad. (Gee Street/V2 Records)
By: Alex Steininger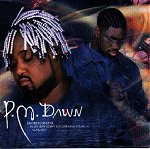 Back again with more R&B/Soul/hip-hop grooves, P.M. Dawn are here to release their vibrant sounds on fans and non-fans alike. After Prince Be had a child, his world began to become clearer, and a reason for existence was evident. Having Christian changed his world, and is heavily reflected on this album (hence the title).

Reflecting on life itself, and how anyone could bring someone new into this world, Prince Be took his deepest thoughts and confessions and put them on this album. Lined next to smooth grooves, tender vocals, and pure heart and soul, they create a bittersweet album that will have you doing a double take on life while embracing it.

Beauty and sophistication run deep on this album, and seem to be the pulling force. Life -- the underlined theme -- shines through on every corner of the disc, and while they're after the answers to burning questions in life, they help ease their own souls (as well as the listener's) with moves and beats that paint the fragile state of the world.

P.M. Dawn renew themselves with DEAREST CHRISTIAN... while giving the fans a smooth album that will be valued for its content and ideas. Tight all the way through, with no holes to collapse it, the disc is solid. I'll give it an A.