INTERVIEW: Royal Crown Revue
Interview with Daniel Glass -- drums, percussion
By: Alex Steininger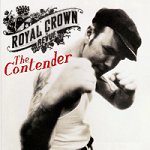 At the forefront of the swing 'revival' is Royal Crown Revue. Formed in 1989, they were dancing it out at clubs and other venues before there was a revival. Subsequently, as their popularity grew, others believed they too could pull it off. Slowly, swing took its turn in the spotlight. And there was Royal Crown Revue. Earning their way onto a major label (Warner Bros. Records), they released the stellar MUGZY'S MOVE in 1996. Now it's 1998, and they're back with their second full-length, THE CONTENDER (Read a review of this album from Issue 14 here).

Alex: How do you feel THE CONTENDER compares to MUGZY'S MOVE (review here), and how do you think it is different?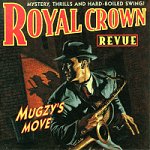 Danny: I like THE CONTENDER better. We thought we would add more of a traditional pop format to the music, like verse-chorus-verse where MUGZY'S MOVE is more on the line of classical standards. It's based on A, B, A, B. I don't know if you know anything about composing music, but the A, B structure is what the more traditional standards are set around. We also wanted THE CONTENDER to be more commercially viable, with more hooks for the listener. I mean, swing is all over the radio now, but awhile ago they wouldn't even touch us. So, we wanted to introduce the commercial radio audience to us with something they could get into. That's why there is a more pop feel to the album. Also, with THE CONTENDER there is a general theme, as opposed to just a bunch of songs like on MUGZY'S MOVE. The theme is pretty loose, but there is still a theme...keep fighting, keep your dukes up, and keep hammering away. It's the story of our career.
Alex: What kind of mind-set did you go into the studio with for recording this album? Was it different than in the past?
Danny: We had a better idea of what we wanted to do. MUGZY was not very conscious. But the new one is very conscious, even though we only had three months to write and record it. And we were on the road most of the time while writing and recording the album. It wasn't much time, and we were under a lot of pressure...we were under the gun, but I really liked the way it came out. There are a lot more choruses that a radio listener could latch onto.
Alex: Was it your goal to go in and sort of add a few more influences, or did that just happen while writing the songs?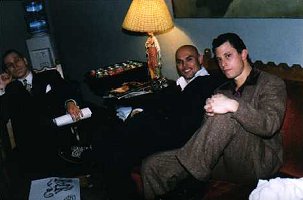 Danny: The whole band draws from many musical styles and classic American styles. We are very eclectic as a band. The new album has a lot of different styles on it, including calypso, Latin, lots of guitar alternative, and be-bop jazz. People need to realize that swing is not just Benny Goodman. As our style of swing shows, we draw from many influences and styles. When we were combining all these different styles, it was really hard to tell which ones would work. We just went into the studio, started playing, and the ones that fit we went with.
Alex: How does the band go about writing the songs? Does one person bring in lyrics and the rest of the band adds music?
Danny: Someone will come up with an idea for a horn line or something, and then we'll take it from there. We have many different ideas and ways to write the songs. Eddie may add words to music that the band has been working on, or vice versa. In our band, everyone writes and contributes ideas. Then again, we might go into the studio with a song we think is final and end up completely changing it.
Alex: What would you describe the new album as sounding like?
Danny: It sounds like Royal Crown Revue. Out of all the swing bands, we have the most unique sound. We've toured with many different bands and bring in all sorts of influences to make us who we are. We played with Bette Midler at the Billboard Music Awards and have a cut on her new album. The best way to describe how we sound is we play authentic, but give it the Royal Crown Revue mojo. We play with swing style, but add a twist. I think that about sums it up.
Alex: Any favorites on the new album? And if so, why would you consider them to be your favorite?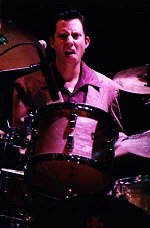 Danny: I like "Morning Light" because the drumming is really good. "Salt & Peanuts" is also one of my favorites because our producer, Ted Templeman, really made it interesting. The title track is also really strong, it combines swing and modern rock. Overall, the mixes are done really well, too.
Alex: What direction do you think Royal Crown Revue is heading?
Danny: I have no idea. It's very hard to say. We aren't afraid to do our own thing. Of course, having the radio support us and selling albums would be great. But, we'll be here whether or not radio supports us. As far as future direction, it'll probably be more of our own unique sound.
Alex: Do you consider yourself a swing band?
Danny: Absolutely! We've been calling ourselves swing, but with all these new bands I don't know if we fit in. The way I look at it is like this: When the Rolling Stones first started off they were just another British band invading America. They weren't a blues band. But then they became a blues band, but had their own sound. And each time they released something new it would be different. They had their own sound of many different styles. We just want to make good music. We play jazz clubs, punk shows, etc. We do swing, but we do many unique things. It's like being in ten bands all in one band. It's classic American music. We stay in the swing genre, but what is the genre? We go from the 20's to the 40's, but grew up in the 70's, 80's, and 90's, so it all influences us.
Alex: Where do you think swing stands overall?
Danny: The media is getting a hold of it and it is becoming superficial. They make it all about the dress. It is a trend and will come and go like trends. But, hopefully people will like it and will really get into the history. Then it will go on in a large degree. But, if the scene is going off the Swingers movie and a few swing compilations, then it is definitely in trouble. Right now it's really hot, though. So, we'll just have to wait and see where it is later on.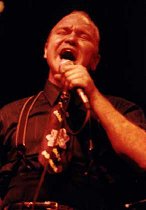 Alex: Is Royal Crown Revue taking on an extensive touring schedule like in the past to promote their new album?
Danny: We've already one a two-month tour of the states, and we're doing the Northwest in December. We'll also do another U.S. tour in March. We make our living off of touring. I mean, last year we were on the road for nine months, and this year we're hitting it for like seven months. We always do lots of touring. We sell our records by touring and creating good music.
Alex: On your current tour is Royal Crown Revue heading out alone or with someone else? If by yourself, is there any plans to tour with someone else in the future?
Danny: On the past tour we didn't have an opener. We just couldn't afford to bring a band with us. We should consider it, though. I'd love to do a tour with a ska band like Hepcat. The music is different, but the vibe is sort of the same. I think that would be great.
Alex: What other things is the band going to do to try and get the word out of the new album?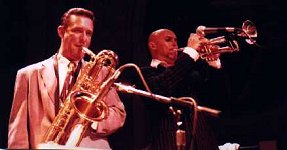 Danny: THE CONTENDER is the second single coming in January. The song is more alternative than swing. It's more rock than "Zoot Suit Riot" or something like that. Radio sells records, that's a proven thing. So, we're hoping radio will pick up on it. But, even if they won't play us, that's ok. We're going to do the Playboy Jazz Festival this year, and maybe an Australia tour again. There is also the Bette Midler thing. Radio will not make or break us. I just want to see if swing will last, or if it's just a trend. Right now swing is huge. Everything goes through this mega-hype stage and then it is just thrown out. It doesn't even have to be music. I mean, look at things like Monica Lewinsky and South Park. The thing that is different here though, is that I think you have an option with swing. You don't have to be into it twenty-four hours a day. One day you can listen to Manson and then one day swing to Royal Crown Revue. There is more than just Manson out there, but you don't have to be exclusively dedicated to swing or that. You can do one this day and another the next. I think the two can co-exist. Once the fad goes though, without cred you're going to go too. And, I think we have cred.
Alex: Let's talk about The Amazing Royal Crowns and Royal Crown Revue. What happened there?
Danny: It was becoming extremely confusing with the name thing. Fans weren't the ones confusing it, the media and promoters were. We'd see interviews with us that had their photos, or videos promoting our upcoming shows -- but the video was theirs. We had to go through a big fight with Royal Crown cola to keep our band name, and have had a service mark since 1994. And, they've been a band since 1994. First off, we sent a letter to them from our lawyer telling them that we wanted them to change their name. Their response was basically giving us the finger.
Alex: What about bands like Verve and Verve Pipe? If they can co-exist, can't you guys do it too?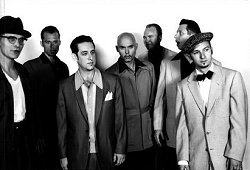 Danny: That's their issue. If they have a problem, that's their thing. If the Verve played a show and was promoted as the Verve Pipe, I bet they'd be pissed. But, you know, that's all behind us now. Though, the bashing by their fans wasn't necessary. Their fans did a lot of smearing on us. I don't know if they went out and told their fans to do it, or if their fans just thought it would be cool. But it wasn't cool. But, like I said, it's all over now. They're cool with us. We met them when we both were in town at the same time, and they think it is bullshit too. I hated it, it sucked, but life moves on.
Alex: Why did you guys decide to re-release MUGZY'S MOVE with "Barflies on the Beach" on it?
Danny: That was Warner Bros. move. "Barflies on the Beach" got some MTV play and was getting some nice airplay on the radio. So here was a song that MTV and radio were playing, but fans couldn't find it in the stores. So, Warner Bros. decided to re-release the album with the extra track added so people could find it and buy it. Besides, I think all our hardcore fans knew that it was the MOM II soundtrack, so they already owned the song. We didn't have much say in it, though.
Alex: Isn't Surfdog Records, the label that put out MOM II, owned by your manager?
Danny: Yeah, Surfdog is owned by our manager. Indie labels are nice, you get to make some money for a change as opposed to major labels that you'll never make money off of.
Alex: What are the band goals for 1999?
Danny: Of course, we're going to tour. We might also release a record, which we've done for the past three years. Most of all though, we want to grow and develop.
Alex: Anything I've left out that you want to cover?
Danny: Well, as far as developing goes, we've done a lot. In four records we've developed nicely. Our next record won't be under as much pressure as Big Bad Voodoo Daddy or Cherry Poppin' Daddies, since we don't have the hits that they do. You know, I read somewhere that 95% of records sell under 2,000 copies. We're already ahead of the game, so we just look forward to putting out more good music and touring in support of it.