Einsturzende Neubauten
Ende Neu (Nothing Records)
By: Alex Steininger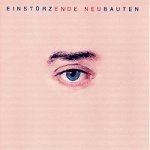 Both influential and instrumental in helping to push industrial and electronica to the attention it has garnered, German's Einsturzende Neubauten have been doing it since 1980. On their debut Nothing Records release, ENDE NEU, they prove why time has only helped them get better.

Compared to others, this album is quite soft. It has its noisy parts but, for the most part, is a fairly simple, yet complex piece of work that relies more on the collaboration of sounds and ideas to get the message(s) across than it does on noise and yelling to bring attention to the forefront.

The lyrics, I'm sure are pretty good, but since I don't speak German I couldn't understand a word. That was the only draw back for me. I like to know what is being said -- I'm a heavy-on-lyrics kind of guy who can fall in love with music if the lyrics are good. Sure, a good musical backdrop is a necessity, but if you have the lyrical boom I'll lean your way. Here though, I couldn't understand anything that was being said. But, using their voices as a paste for the sounds helped me to get into the music and have a better realization of what they were trying to do.

It must be noted that there is one song in English, and the CD booklet has a translation for every song that appears in German on the album. But, I just didn't have time to read through them. So, I was left clueless as to what was being said.

Back to the music, though. It was so striking. It didn't jump in your face or force you to listen. There were no hammering drumbeats or synths going off like an alarm to draw your attention nearer. The subtle texture of the music was all that was there, which contained enough of a draw to stun you in your place and keep you listening. You just can't hear it and not wonder what is trying to be done. So, you'll sit there and try to figure it out, and by that time they'll have your mind and start invading your head -- in a good way.

The soft, laid-back theme of the album shocked me a bit. But, as I listened, it grew on me and really warmed me up. It was effectively quiet, which is hard to do, and drew on your curiosity because of the tone that was presented. If ever there was doubt in your mind that electronica-like artists are here to say, this to this album and then tell me that it's 'just a phase.' I think not. I'll give it an A.