Eileen Rose
Long Shot Novena (Rough Trade)
By: Scott D. Lewis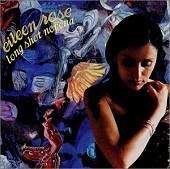 Eileen Rose is going to get pretty sick of reading Bob Dylan's name in her reviews. She's also likely to get tired of the names Marianne Faithful, Lucinda Williams and Nico, and the phrase "a more airy Stevie Nicks" should just plain piss her off. Rose is a Boston-born songstress who sounds like she's been making the rent by busking throughout the city's seedier streets. Actually, she's fronted the bands Daisy Chain, Medici Slot Machine and Fledgling, and Long Shot Novena is her second solo album.

The ten tracks on Long Shot Novena are colorful, contemporary folk songs which are art artfully tainted by Rose's life in London over the past decade or so. The flavor runs from the opening, somber dirge of the title track, to the silly, from-the-porch abandon of "Big Dog," complete with heavy amounts of jew's harp which signals the album's end. The places visited between are both diverse and delightful. A gently wailing harmonica blows through the leggy and languid "Good Man," a song that, oddly, brings Lionel Richie's "Easy" to mind.

The chugging, boxcar shimmy of the following "Snake" finds Rose sharing vocal duties with Kris Dollimore and dodging some searing guitar shards.

"Wheels Going By" is a cute cowpoke tune for which Rose does a decent Dylan act, "White Dove?s Awake" could have come from a heartland version of PJ Harvey, and "Tom Waits Crooning" proves that Rose can dole out sinewy sonic elegance with the best of them. If you long for all those female folk-pop crossovers (Alanis, Sheryl, Jewel) to adopt a dose of artful craft, your remedy may be found in Eileen Rose.