Einsturzende Neubauten
Perpetuum Mobile (Electro Venus)
By: Jett Black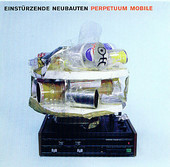 "Arriving in each new city, the traveller encounters something of his past. the possession of which he had no longer been aware: the forgiveness of what you no longer are, or no longer own, is expecting you on the threshhold of new locations" - Italo Calvino

Though it may never be recognised as such, Perpetuum Mobile may be to EINSTURZENDE NEUBAUTEN fans what The Wall is to fans of Pink Floyd.

"EINSTURZENDE NEUBAUTEN's long-awaited new studio album, Perpetuum Mobile has arrived at last and will be released on February 10, 2004 through MUTE. This is the follow up to Silence is Sexy (2000) and the Strategies Against Architecture III (2001) anthology."

Perpetuum Mobile (a track by track analysis)

Ich gehe jetzt (3:31) / "I'm going Now" ("also known as the White version of Compressors in the Dark while in progress").

The music and spoken-word Vox here is as stark and bare as the accompanying lyric sheets (white background complete with original German lyrics and English translations).

Progression from beginning to end provides a wonderful introduction to this album... I imagine the stage dimly lit, and a hand out of the pouring rain (also imagined) grabs the microphone, pulling it closer for steady and evenly punctuated lyrical delivery. The atmosphere, the mood, weighs heavily, much like in the opening scene to The Hunger in which Peter Murphy gazes callously into the audience while delivering a litany of lyrics.. and all the while, the passion builds.

Perpetuum Mobile (13:41) / "Perpetuum Mobile"

Obviously, the title track. Spinning in sync with whirring that rises to a fever pitched scream, and percussion that falls into perfect syncopation with the nervous energy pouring out like an excess of steam, steadily streaming out into the cold, dark night, these lyrics unfold the jet-set lifestyle of the "rock star", with Blixa Bargeld playing the role of PINK.

Ein leichtes leises Säuseln (4:31) / "The Dreams are Wrecked Time Travellers" ("also dubbed the "cathedral song" while in progress" ).

Vocals herein carry all the charasmatic power and eloquence I remember from endless days and years of watching THE WALL, dazed and confused, and compelled to rise up and follow the music all the same. Trance vox qualities of rhythm develop an enchantment which, if experienced LIVE, would provide for an overwhelming presentation... like a spiritual leader, like a dogma for revolution.

Selbsportrait mit Kater (6:12) / "Self-Portrait with Hangover" ("Life on other planets is Difficult" .. That pretty much says it all.)

Boreas (3:59) / "Boreas" ("came out of "summerly installation" at beginning of Phase I")

Wrapped in winter, this song feels perfectly suited to the SNOWED IN DAYS hitting the NW USA at this time... a state of inertia with hope for smooth sailing... but when that time may come? No one may know for certain.

Ein seltener Vogel (9:14) / "A Rare Bird" ("this is the studio version, with full lyrics")

Complete with bird-like tweeting and the hum of the morning sunrise, or monks on parade, "A Rare Bird" brings in the thaw and flourish of Sprintime. Life emerges and thrives simultaneous to one's awareness of it. This song represents the synoptic sound of it in rapid progression.

Ozean und Brandung (3:34) / "Ocean and Surf" ("also known during work in progress as 'rohr', 'ocean', and variations thereof")

Beauty in motion... the sound of the wind, the rain, the spray from the ocean and the surf crashing endlessly against the shores of time. Toss your cell phone into the surf and tip back another beer.

Paradisseits (4:07) / "Paradising" ("the three above form basically one 'cycle'")

This song deals more with confidence in the future and the now, about dreams and faith in the process of dreaming, and becoming everything under the Sun that the mind can imagine.

Youme & Meyou (4:39) / "Youme & Meyou"

This one is sung in English. It sounds like a bit of idle philosophy between two close friends in conversation at rest, as a transport on which they ride travels from here and there.

Der Weg ins Freie (4:04) / "The Way into the Open"

Back to the more aggressive/assertive jaunt forward. Time for direction and execution. The pace quickens to a new plateau. Dance in progression to the revolution. This is motivation for living, for breathing, for opening the door and stepping out into the world with the confidence that you will make it. Today is a new day. Beyond this line, monsters may await, and yet this line must be crossed, and so be it!

Dead Friends (Around the Corner) (5:14) / "Dead Friends (Around the Corner)"

"This is the only song that's completely identical to the version on the supporter's CD"

At first, this song feels so much like a foreboding... a warning against complacency, and then it builds defiantly walls against further recognition.

Grundstück (3:41) / "Floorpiece" (known as "floor piece" during work in progress)

Perhaps the most elegant and pensive and yet also laconic of songs on this album.

Running the play of co-dependency, and again hope for a brighter future than the status quo inside the one you love.

PRODUCTION NOTES??

Each track above comes with completely detailed instrumentation and production information.

Swinging microphones, platics & metal percussion, coiled springs, styrofoam flakes, air compressors, tin whistles, metal sheets, palm oil canisters, dried linden leaves, a survival blanket, gas burner, pythagorean tube bells, electric fans, trombones, tubas, guitars, a grand piano, and all manner of other conventional and NON-conventional instrumentation included within this retail version of Perpetuum Mobile "Everything but the kitchen sink" (some might say).

Plus: Limited Edition Bonus Audio DVD with surround mixes of the following tracks:

Grundst?ck (different version)

Ein seltener Vogel / "A Rare Bird"

Ozean und Brandung / "Ocean and Surf"

Paradisseits / "Paradising"

Overall Purpose?

Perpetuum Mobile reflects also part of the concept behind production recorded and transmitted live over the internet for fans who subscribed to Phase I of neubauten.org

quote:

"For Perpetuum Mobile, the band, who have been operating as a constant line-up consisting of Blixa Bargeld, Alexander Hacke, N. U. Unruh, Jochen Arbeit, and Rudi Moser since Ende Neu (1996), decided on a novel and unusualproduction approach. Webcams were installed at the Neubauten Studio in Berlin to transmit the entire creative process via the internet on their homepage www.neubauten.org. Interested fans were granted access to the site after paying a one-off fee which served to guarantee the financial independence of the production. At previously announced fixed times, their supporters had the opportunity to watch the creative process live and to send their comments live to the band. To be able to react to incoming remarks, everybody in the studio, including sound engineer and webmaster, were equipped with a laptop."

"All the sessions were broadcast - and later also the rough mix versions - were filed in an archive that could always be accessed online and discussed later in the chat or the forum. There were a number of tracks, says Blixa Bargeld, that the band would have abandoned after a few attempts (Ein seltener Vogel"), but continued to work on because the supporters insisted on their completion. So these fans, through their influence on the music, the lyrics, and the production, were supportive in these respects."

"On completion of the production process, each supporter received the Supporters' Album #1, mainly consisting of material different to the songs now released on Perpetuum Mobile - exclusively conceived in the sessions that were broadcast live."

What did Phase I supporters get?

* an exclusive supporters' CD
* exclusive download of double live CD "Gemini" plus some other tracks
* over 140 hours of webcasts of the band at work
* a couple of live concerts from the bunker
* an active forum that racked up 33,000+ posts over the year
* Christmas presents from the band for 60 lucky winners
* virtual spaghetti dinner with the band on April 1st, 2003
* email accounts @neubauten.org

Supporters' Album #1 consists of 9 tracks with a total running time of 55:33 (min:sec).

What about a "Phase II"?

YES! Phase II Opportunities now available...

For complete details regarding PHASE II subscription-based opportunities, please visit http://www.neubauten.org/.

Jett's Final Thoughts...

Perpetuum Mobile regurgitates day-to-day reflections of the modern world as we know it, as we eat it, and spit it back out again. Woven into this timeless drama are the philosophical threads that bring some reverence for the natural order of things as the planet and it's cycles have existed for eon past, and what do we think about it? Or, DO we even think about it?

IMAGE?

Front and center on the album cover...

a collection of various daily products that will not bio-degrade during our lifetime.

Who is responsible for the sanctity of the world in which we live and breathe?

Spring 2004...

North American tour dates will be announced soon on the band's website.