Go For Broke
New Music With Old Chords (Good Country People)
By: Alex Steininger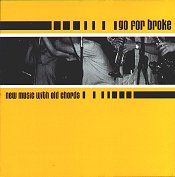 Fluctuating between an eight and a nine-piece outfit--an on/off trumpet player--Atlanta, Georgia's Go For Broke is a playful, happy punk-ska band you can't help but like. Realizing they're nothing new or innovative, the title of this EP sums everything up--NEW MUSIC WITH OLD CHORDS.

The title made me chuckle, and realize this band just wants to have fun. Notions of changing the world, feeding the hungry, or saving lives through their music aren't dancing around in their collective head. They realize their function, which is just kicking band and having fun, and always remind you. "May 12, 1998" is an infectious punk-ska treat that starts off with the words "We know we're just a dumb band. We know we won't make an impact. We just want to get up on stage and play our songs!" A bit goofy when the band just throws random noises into the microphone near the end, the rest of the song is a solid gem that will leave you craving more than just an EP. Hooking you with the opening groove, the song is just too charming and irresistible to even think of turning your back on.

But "May 12, 1998" isn't a fluke. Opening the disc with "Whoa! Whoa!," aggressive punk flavor eases up with the addition of some nice brass and some ska melodies thrown in. Getting you jumping off walls more than it gets you dancing, don't fret, because they allow time for both on this disc.

"Happy, Lookout!" is an explosive ska number that will cram all your dancing needs into one song. Always ripping in with some punk chords during the chorus, the verses are all yours to dance until you fall over. Powerful brass come through with some spirited notes, while the rhythm section sticks together and keeps the song a tight, inseparable piece.

Playing both ska and punk with a lot of energy, no matter which genre they cross into (or mix), they always keep things easily digestible and lively. Clowns at heart, the few times they let everything slip are when they let the joke go too far. Otherwise, they have a strong grasp on what they can do, and where they want to go. I'll give this EP a B+.