Glucifer
Get The Horn (Sub Pop)
By: Alex Steininger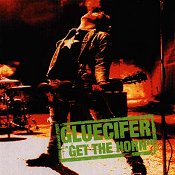 Oslo's Gluecifer do rock 'n' roll right: loud, obnoxious, dangerous, and out of control, just to name a few. For a prelude to their forth coming full-length on Sub Pop, Gluecifer and Sub Pop deliver a six-song EP sure to shake things up and make you want to run and hide.

The title track rips through the air with wild guitar noise, sweaty drums, and a hammering bass that hits you so hard you're nearly knocked out of your shoes. "The Year of Manly Living" screams with excitement. Rock 'n' roll never sounded so vibrant and alive. "Go Away Man" is so bloody and alcohol drenched that you'll run in fear of the monster that is rock. Then there is "Leather Chair," "Bounced Checks," and "Titanium Sunset," three more testaments to this tireless rock 'n' roll show these guys create each and every time they rip into a song.

It should be noted these are not new or exclusive songs. Track 1-3 are from the band's Soaring with Eagles at Night, to Rise with the Pigs in the Morning" and 4-6 are from Ridin' the Tiger . But, fuck, it's just good rock 'n' roll no matter how you look at it and a damn fine introduction to the band. I'll give it an A-.