The Go
Whatcha Doin' (Sub Pop)
By: Alex Steininger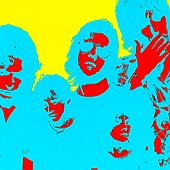 Detroit's always been the rock 'n' roll capital of the world, most notably producing MC5. Any in the tradition of the greats comes The Go, a five-piece with the energy, intensity, and roots planted in the right soil to make a name for themselves in the world of rock 'n' roll. Their debut album, WHATCHA DOIN' finds them blasting (and I do mean blasting) out pure, adrenaline-high rock so vivid it will make you sweat.

"Meet Me At The Movies" is a flurry of guitars, hailing drums, and massive bass grooves plentiful enough to knock almost anyone to their ass. "Summer Sun Blues" tones things down a bit, but the loud, thick guitars and rock appetite is still there. Of course, then there is "You Can Get High," acid-dropping rock that is both fast and slow, the sweet jangly pop of "It Might Be Bad," the Iggy Pop-charged "Get You Off."

The Go are a strong, consistent rock band with enough energy to fuel the city of Detroit's power for a week, maybe longer. They're intense, driven, and they just want to kick back and have fun. All the qualities a good rock band should possess. Though, in the noise and confusion, sometimes the vocals take a hit, leaving a bit to be desired. As for the music, you can't complain. But the vocals leave a lot to be desired. I'll give the album a B-.