Low
The Great Destroyer (Sub Pop)
By: Alex Steininger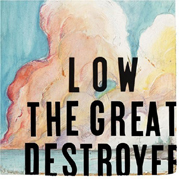 On their seventh studio album, and first for Sub Pop, The Great Destroyer, Minnesota-based trio Low, along with producer Dave Fridmann (Mercury Rev, The Flaming Lips), have created their most produced, glossiest offering to date, and yet it might be their best.

Opening with "Monkey", the band delivers a heavy, guitar-fueled rock song, setting the stage for the rest of the album. Followed by the melodic, subdued guitar-rock of "California", Low reach a commercial appeal unheard of on their previous albums, but still retain their creative vision and individuality. Such is the case on the slow-burning "On the Edge Of", a light, vocally-driven song that uses faint guitars to augment the song, while it crawls from start to finish, hinting at Low's slowcore past.

"Step" is a lo-fi rocker, while "When I Go Deaf" is another slow-moving, airy number.

"Broadway (So Many People)" combine Low's too sides, offering up a slow number that still rocks, while "Pissing" does too, in a different way. Starting off slow and airy, the song builds and builds into an epic rock piece near the end.

Those afraid that Low produced may change them, fear not. The Great Destroyer is indeed Low, through and through, but this time they've upped the ante and manage to pull it off quite well. I'll give it an A.