Petra Haden
Sings: The Who Sell Out (Bar/None)
By: Alex Steininger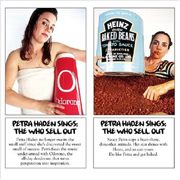 The idea seems so novel, yet so disastrous. An A Cappella album of The Who's Sell Out? No way, never. A staple rock record, done A Cappella, it should not be done! However, That Dog/The Rentals' Petra Haden has done exactly done that on Petra Haden Sings: The Who Sell Out. And she's done it quite well, too boot.

Hits like "I Can See For Miles" and "Relax" seem so natural with nothing but Petra and several vocal tracks to bring the song to life. Gone are the guitars, soaring vocals, and monstrous rhythm section. In their place are several of Haden's vocal tracks, turning the songs in relaxing numbers - and it works.

Haden is bold, that is for sure. Yet, she knows what she is capable of, and with a strong voice - and a vision - she has pulled it off here. Everyone should hear this just to be reassured it has been successfully done. And then keep listening because it's that good. I'll give it an A.