Stephen Malkmus
Face The Truth (Matador Records)
By: Alex Steininger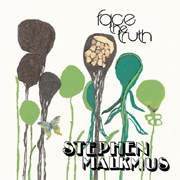 On his third solo record, along with his backing band The Jicks, Face The Truth, Stephen Malkmus has created a genius concoction of intelligent rock, pop experimentation, and quirkiness.

Now, you're probably asking yourself, "isn't that exactly what he's done on his past two solo records?" Well, yes, somewhat. But, on his previous solo records, Malkmus always seemed to be torn in two directions, one the experimental, post-Pavement side that finds him exploring beyond what he's done in Pavement. And, the intellectual lyricism and guitar-wizardry that has both made him a songwriting and guitar idol, but made some of his songs inaccessible to those that didn't want to spend the time, or couldn't see past the pretension to give the music a chance.

On Face The Truth, however, Malkmus dissolves all doubts and seems completely at ease, making one of the year's best albums.

"Pencil Rot" is Malkmus in full force. His usual lyrical wit sang in his trademark vocal style, his guitar prowess driving the song, as he experiments and incorporates quirkiness into his indie-rock styling.

Then there is "Freeze The Saints", a beautiful pop song, Malkmus flawlessly creating a blissful AM jaunt through the golden age of radio, all while putting a spin on things with his lyrical bite.

"No More Shoes" is another song to take notice of, an eight-minute, psychedelic-laced stoner-rock song. Or "Mama", a slice of some of the finest indie-pop created in the past decade.

"Post-Paint Boy" is usual Malkmus, the solid guitar work leading the way as Malkmus' storytelling ability (both vocally and lyrically) have you a little leery, while hanging on the edge of your seat. Dosed with some unsuspecting pop, you can't help but sing along.

Album closer "Malediction" is a quirky, indie-folk-rock song that shows Malkmus has his experimental side, too.

Face The Truth is Malkmus as an unstoppable songwriter who can meld charm, wit, pretension, humor, and pop into hard-to-forget rock nuggets that creep up on you and then become the only thing you want to listen to for days on it. I'll give it an A+.