True Love
Wings (Not Lame)
By: Alex Steininger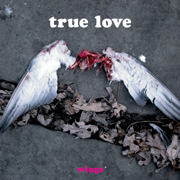 On their third full-length and second for Not Lame, New York-based power-pop fanatics True Love deliver rock 'n' roll with a sugary coat. From the loud guitars to the pounding rhythm section, True Love are rock 'n' rollers, but their love of pop (all things Badfinger, Cheap Trick, and Elvis Costello, to name a few) ensures that their brand of power-pop does not get passed up on.

One of Not Lame's loudest bands, True Love are that rare power-pop band that could get on stage with any guitar band or indie-rock act, fit in swimmingly, and then play a pop fest and be adored by everyone.

Wings, their latest, continues with the past two albums craftsmanship, delivering combustible rock embedded in the brightest, most undeniable hooks. Rock out, sing along, and just give it up to True Love, because, as the name implies, it is fate. True Love deliver unabashed power-pop with an unforgettable flare. I'll give it an A.