The Posies
Every Kind of Light (Rykodisc)
By: Alex Steininger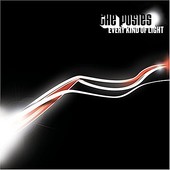 After a lengthy hiatus and front men Jon Auer and Ken Stringfellow pursuing solo careers (in addition to being the backing band for Alex Chilton and Big Star, as well as Stringfellow playing in R.E.M.), The Posies are back!

Rejoice! That is right, The Posies are back!

Their latest, Every Kind of Light, proves the pop songsmiths have not lost a beat as Stringfellow and Auer once again prove to be the Lennon/McCartney of pop songwriting in the Northwest.

Though their songs are not loud anymore, The Posies instead prefer to write subtle, instead of forceful songs, delivering something more Beatles-esque than early 90s guitar-soaked.

Opener "It's Great To Be Here Again" starts the album off in a lounge-y, groove-laden, soul-infused way, showcasing the growth and diversity The Posies have underwent since its two songwriters have ventured off into the solo world.

However, the second track, "Conversations" finds the band back into true form with a rocking power-pop number. Including strings, the song builds, starting out intimate and soft, and taking on its rocking side when the chorus hits.

"Anything and Everything" is relaxed and mellow, as are "Last Crawl" and "Could He Treat You Better". These three songs are typical of the album. Less rock and more soul, The Posies bask in their own pop warm and settle down, unleashing the soul and hitting you with the same force as the guitars have in the past, if not more so.

Then there is a jangle-y, Beatles-esque song like "Love Comes", which reminds us why we first fell in love with The Posies. But, after listening to Every Kind of Light we're reminded why we still love them. Delicate melodies, soaring harmonies, and delicious pop all around. Every Kind of Light may be softer and more adult focused, but it isn't any less for it. I'll give it a B+.