Point Juncture, WA
Juxtapony EP (Self-released)
By: Bryan Bingold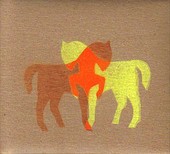 It's nice and yet frustrating when a band takes things into their own hands and self-releases a professional sounding record. Nice because you can usually buy it cheaper and frustrating because you can only get it through the band.

Until the internet.

It's only because the band sells this EP on their website, that I decided to write this review. Otherwise it would be pointless.

Point Juncture, WA may not be a town that you can ever visit (it doesn't exist), but it is a band that one should keep a look-out for on the show posters that line the telephone poles across this great nation. Point Juncture, WA's magic is found in their simple classification. They're not indie-pop, indie-slock, indie-rock, emo, indie-metal, indie-lite, indie-sludge or anything else. Point Juncture, WA is indie. That's all, just straight indie music. Independent and free from the normal music critics' cliches. They have that scary, indefinable quality that Pavement had when they first released a record. No one knows how describe the music other than it's good. It's damn good and you should get it, get it now before the music machine swallows Point Juncture, WA up and starts spitting out pale imitations and trying to sell those to you.

One of Point Juncture, WA's strengths is behind the vocals of Amanda S., Jesse S. and Paul N. When Amanda sings alone on "The Siesta Movement", she brings a ferocity that is lacking from Jesse and Paul's other vocal performances throughout the rest of the record. Which is refreshing to hear a female vocalist have such a force in a predominately male band, without her being the "front-woman." The other strength is the revolution between instruments. Every member is multi-instrumental and the configuration of the band and what they play changes from song to song. Allowing for a great mixture of different styles to come through. This is a band to keep an eye on, if you haven't already been.