The Mountain Goats
The Sunset Tree (4AD)
By: Bryan Bingold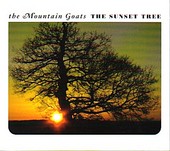 The attraction of the Mountain Goats is the sheer intensity of John Darnielle's vocalizing and playing. His vocals, throughout every album, have been delivered with such conviction and power that no matter what the content of the lyrics were, you had to listen. With each album, Darnielle has improved his lyrical writing and subject matter until it has finally reached a pinnacle with The Sunset Tree. Finally, there's a Mountain Goats album with everything equal in its intensity. The extremely personal lyrical subject matter of The Sunset Tree finally fits together with Darnielle's singing and playing. It's like finding that first jigsaw piece that fits perfectly and starts you on the journey of finishing the puzzle. This is the album that made the New Yorker call Darnielle: "America's Best Lyricist."

I wouldn't say The Sunset Tree is Darnielle's best album. It's just his most personal and that makes it a difficult album to listen to in many ways. Unlike most personal singer/songwriters who lighten the impact of their personal stories by adding sweet melodies, or burying it with instrumentation. Darnielle lays it out with just his voice and guitar, every added flourish of instrumentation only hammers back the point of the lyrics. Take the piano melody of "Dance Music," which only adds to the power of escapism through music. As we hear about Darnielle's terrible story, we are escaping it right along with him. Similar musical tricks run throughout this album, making it what it is. But the most powerful writing on this album isn't in the music, nor the lyrics, but rather in the linear notes:

"Dedicated to any young men and women anywhere who live with people who abuse them, with the following good news: You are going to make it out of there alive You will live to tell your story Never lose hope"