Spiders & Snakes
Hollywood Ghosts (Sansei Records)
By: Vinnie Apicella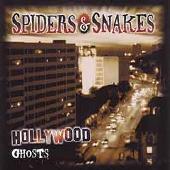 Lending true meaning to the idea of "underground," Spiders & Snakes have been causing musical tremors in Hollywood for better than 15 years now. Hollywood Ghosts is the group's seventh offering, following up on 2000's popular London Daze, and again features the core duo of guitarist/vocalist Lizzie Grey, of previous London fame, and drummer/vocalist Timothy Jay, both of whom share vocal duties this time around.

S&S is something of a categoric evasion, musically, firstly in delivering prime time retro in the vein of popular '70s and '80s acts like Sweet, T-Rex, Starz, Cheap Trick, and Motley Crue, among others, and secondly, their delivery is rooted in rock and all of the subdivided styles the aforementioned players represent. So one might apply glam, punk, classic rock, hair metal, and they would all fit at one time or another, and often within the same album mix.

Hollywood Ghosts embodies easy to swallow rock n' roll anthems that go beyond the simple guitar and drums formula where inside the songs we find plenty of instrumental extras including tambourine shakes, harmonica, handclaps, and sax, the last of which comes compliments of special guest Angelo Moore of Fishbone.

It's a modern day trip through memory lane, which is to say, dead on, for this group's continuing homage to the late greats of the past that continue to plow ahead to this day in the music of others. "American Baby" and "Angelyne" start by tearing a page out of the Cheap Trick power pop guide for their catchy sing-along quality, while the namesake cover, "Spiders & Snakes" has a swamp-boogie feel to it with Stones' overtones; "Bill's Cigar" is a tribute to our former president's intern, led in with bongos and a beach baby feel that would be preposterously goofy if the rest of the record were overtly serious. Not one of the speaker-blowers of the bunch, but cute in context. "Get Outta Here" serves a fitting purpose to let the fun fly in a barrage of lyrical skips over the daily grind and features Slade's "Run Runaway" vibe before fading away as the last of the twelve tracks.

Hollywood Ghosts goes beyond the music by documenting the band's re-emergence by way of a DVD extra featuring fifteen album-spanning videos including live cuts and rarities and plenty of behind the scenes footage to finally shed some light on this popular cult act that's remained in the shadows for so long. All in all the music moves in multiple directions with a good time party romp that continues to fuel the fun in the scene.