Skullflower
Orange Canyon Mind (Crucial Blast Records)
By: Vinnie Apicella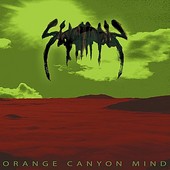 It's almost too easy to describe the output of Orange Canyon Mind and the wide array of filtered noise that flows through the channels. Noisy? Yes. Droning? Yes. Static? Electric? Dissonance? It's all there like one continuous feedback trail resulting from plucked strings and open chord strikes drenched in heavy echo. And yet there's more to the story.

The UK's Skullflower has origins dating back 20 years entrenched in a post-punk drawl fed from an addiction for abstraction into areas of modern industrial and hi-tech noise core. It's a sound akin to the paint splattered on the page in an imperceptible mess and yet recognized as art. Orange Canyon Mind does its share of audio paint splattering while in between, typified in the eight minute opener, "Starry Wisdom" or the follow up title track, smoothes the rough patches to momentarily clear an obscure picture bringing to life a flood of emotions ranging from rage and irritation to mesmerizing mellowness. And yet there's something very historical about the hypnotic sounds produced that recall the very first days of instrumental music that it's almost an eerie throwback.

Orange Canyon Mind is an enlightening if at times harrowing listening experience that's assuredly an acquired taste among its eight track hour-long foray into blinding white lights and dark colors suitably coating the mind's canvas between that which we embrace and that we can never understand.