SHOW REVIEW: Kreator / Vader
Lo-Fi Cafe (Salt Lake City, Utah)
By: Jeb Branin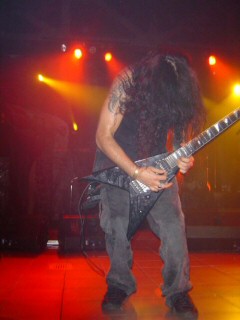 "I was worried nobody would come," Kreator guitarist/vocalist commented to a group of rabid autograph seekers after his band's triumphant return to Salt Lake City. He added, "We haven't played here for about 15 years, so I was happy to see more people than I expected." Looking at the rapt fans gathered around the Kreator tour bus waiting for a chance to talk to one of thrash metal's true legends, I would daresay that the Salt Lake fans were more than ecstatic that Kreator had finally returned.

Hours before two to three hundred metal fiends had cued up to enter the Lo-Fi Cafe and witness one of death metal's seminal acts in Vader and what may very well be the greatest of all German thrash bands (which is saying a lot, indeed) in Kreator. After a four hour drive to get to SLC, I arrived too late to catch the local opening band but was more than a little relieved to find out that I had time to spare before Vader stormed the stage. I was disappointed, although a bit flattered, to see that I was the only person on the Vader guest list for the show. Is it possible that none of the local zines or stores realize what a treat it is to get to see these unquestioned kings of death metal live? Since their explosion onto the worldwide stage in 1992, courtesy of Earache Records, Vader has proved to be one of the most consistent and intense death bands on the planet. Their take on the sound is relentless and succinct. Fittingly, those are both adjectives that describe the band's performance on the Lo-Fi stage. With unplanned exit of Pro-Pain from the tour, I was hoping that Vader would be able to play an extended set, but no such luck; which is not to imply there was anything missing from their bone rattling performance. The band's sound was so crisp and clean that I could hardly wipe the grin off of my face. Rarely (maybe never) have I been able to enjoy a death show with such crystal clear sound. Vader was tighter than a garrote as they ripped through some of their best tunes including the new masterpiece Dark Transmission, the skull splintering Sothis, the quirky and catchy Carnal, and the anything but silent Silent Empire. It was a near perfect set made even better when they capped it off with their infamous version of SLAYER's Raining Blood.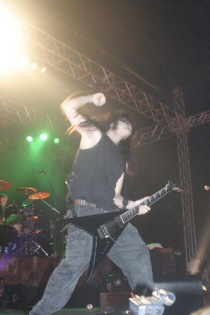 KREATOR took the stage next and the crowd went nuts, except in the pit which remained fairly empty most of the night as a handful of skinheads dominated it with such violence that most people were not anxious to jump in. Other than that distraction the crowd was entirely rapt by Kreator's relentless performance. The sound was not as crisp as Vader's but that was soon forgotten in the hailstorm of thrash metal laid down by these Teutonic tyrants of metal. Tracks from the band's latest masterpiece Enemy of God dominated the set. In fact there were five tracks from the new CD. The albums Violent Revolution, Pleasure To Kill, and Endless Pain were also represented well with about three tracks each. Most other albums were limited to representation by one or two songs, the exceptions being Endorama and Cause for Conflict which were not featured at all. I can understand thatdecision with the anomalous Endorama album but Cause for Conflict is a completely overlooked agro-thrash masterpiece that fell victim to nothing more than bad timing and Kreator's too long absence from the scene in the mid-90s. Oh well, a minor complaint about an otherwise dazzling performance. Kreator's light show is about as good as you are ever going to see at the club level. Whoever designed it is brilliant. It added immensely to the harsh and violent music that is Kreator's trademark. I've seen hundreds of concerts in the nearly four decades I've haunted this plane of existence and rarely have I left so satisfied.
Funny story: I have no idea what people were thinking but as Kreator stormed off the stage following the set closer "Betrayer"; a large number of people left the club and headed home. Apparently they were unaware that Kreator traditionally does an encore of "Flag of Hate" and "Tormentor". Sure enough the band retook the stage to about half as many people and seemed rather pissed off (and slightly amused) by the exodus. That anger drove them through their encore tunes with an even greator vehemence than before, making both "Flag of Hate" and "Tormentor" the highlight tunes of the night.
Funny story 2: When I first arrived at the club I immediately headed to the bathroom (remember, it was a four hour drive). There was a line to the john and standing right in front of me was Kreator guitarist Sami Yli-Sirnio. While we waited Sami turned to me and started chatting, asking if I was there to see one band or both bands and quizzing me as to what I thought of both bands. He didn't introduce himself and I don't think he realized that I knew who he was so I played dumb and decided to pump his ego by telling him how I thought Kreator was the greatest band ever. Which is pretty close to true, but still it was fun to watch him try and play coy as I ranted and raved about Kreator.