INTERVIEW: Jumbo's Killcrane
Heavy as hell and unapologetically crushing... (Jumbo's Killcrane)
By: Mike SOS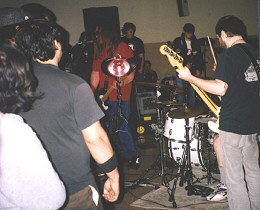 Heavy as hell and unapologetically crushing, the trio from Lawrence, KS claim to make music to make love to, if you make love like a bulldozer demolishing a building. When chatting with this monstrous trio via ernail, the Jumbo's Killcrane way of writing a song was explored, as well as the band's influences and other musical viewpoints.

MIKE SOS: How would you describe your music?
TROY: Modern Doom.
ERIC: This album contains a lot of doomy aspects I think. In my opinion, Jumbo's has always evolved in a heavier direction, and this is just an extension of that. It'll be different next time too, I'm sure. Maybe.

MIKE SOS: What was it like recording THE SLOW DECAY?
TROY: The recording process for the new album was quite good. We were all completely relaxed, which could be in part due to the mass amount of pot vaporized. Robert Rebeck at Black Lodge Studios is a prince to work with. He's extremely talented, with a good ear and a natural calmness. ERIC: That and he had worked with Adrian and I before on our demo back in 1998, so we knew what to expect sound-wise. He does have a great ear, almost too great. We did do a lot of vaporization, but not so much drinking this time. I think that was a plus.

MIKE SOS: What was the easiest song to record? Toughest? One that came out the best?
TROY: The easiest song was "Brown" because of the fact that it was the first one we wrote for this album. Most of the basic tracks were done in one take, with multiple guitar layers done after the fact to provide extra thickness. It's really hard to say which is the best. Probably, "Die, Stabbed." or "The Slow Decay".
ERIC: I like "Slow Decay" the best probably, but none of them were particularly hard though. It's pretty simple music really. Some of the extra guitar parts were hard because I played tracks for like 30 out of the 48 hours we worked on guitar.

MIKE SOS: Where did your band name come from?
TROY: Been asked this too many times my friend.
ERIC: You'll figure it out sometime, and it'll be better then, because it's really not that exciting otherwise. My friend got laid next to one, that's how I saw it.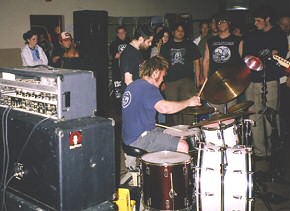 MIKE SOS: Who are some of your influences? Any that we wouldn't detect from hearing you?
TROY: I am strongly influenced by modern classical composers such as Penderecki and Ligeti. But the gods of rock are Led Zeppelin. The gods of sludge and oddity are The Melvins.
ERIC: I love Hendrix, The Jesus Lizard, Birthday Party, Oxbow, lounge music, bluegrass, and Split-Lip Rayfield rocks. Silence is amazing.
MIKE SOS: How does one of your songs generally get written?
TROY: For "The Slow Decay" we used the blender technique. I would come in with most of the riffs, which would be in the most fucked up time signatures. And Erik and Adrian would help me to at least put the riffs into a semi-recognizable time. By recognizable, I mean in 5, 7, 9, 11, or 13. But I did manage to slip a few in that were off the charts. We would then begin to map out the journey together. We generally try to make the songs very long and then start cutting away the fat. Erik does all his own lyrics.
ERIC: I'll admit Troy did a lot of writing on this album, but Adrian and I saw it a little different than that. I wouldn't say Troy slipped anything in that was "off the charts". I'd say Troy came in with some riffs that were in no time signature at all, then Adrian and I would fiddle with it, change a few notes, and put them into an actual time signature. I'd call it more of a sifting and re-writing thing when it comes to translating Troy's riffs. But yeah, we always do that, someone brings in an idea, then we all criticize it, fuck it, and morph it until it can't be made fun of anymore. The end result is a circular pattern we all like that lasts a couple minutes. Yeah, I write all the screaming.
MIKE SOS: What are your plans for the first half of 2005?
ADRIAN: Sleep
TROY: Write, record, play live.
ERIC: Gearing up for the 2nd half.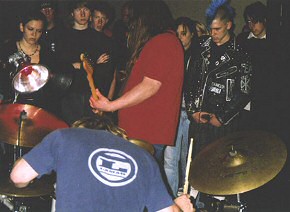 MIKE SOS: Where do you like playing the most?
TROY: San Francisco has just the amount of weirdos and odd musicians to make us feel at home.
ERIC: San Fran, Denver, Portland, Little Rock and Albuquerque are awesome.
MIKE SOS: How did growing up in your hometown affect your music?
ERIC: It probably led to some bad things...a lot of my first songs were Scotch Guard trips.
TROY: I wasn't subjected as much to trends being that I was raised in a small town. I was able to make my own choices musically, and not have to worry about my peers.
MIKE SOS: When I'm not playing in the band, I'm...?
ERIC: Shit man, I gotta work...
ADRIAN: Asleep.
TROY: Finding alternate ways to escape reality.
MIKE SOS: What advice would you give to aspiring musicians?
TROY: Get out there and tour. If you don't tour, you simply are a local musician. Out there on the road is where you learn about humility, respect, hardships, and life in general. You must be fearless.
ERIC: You're fucked. Get ready to take a big bite of the shit sandwich.