INTERVIEW: Ash
Ireland's melodic rock act delivers another record that will make you want to Meltdown (Ash's official website)
By: Alex Steininger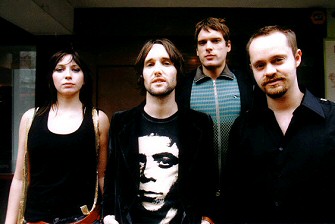 While still in high school, Ireland's Ash released 1995's Trailer on Reprise Records. Getting moderate radio play and attention, it's follow-up, 1996's 1977 (the year that 50% of the quartet was born) spawned three hits, including the infamous "Kung Fu", which helped land the band on MTV -- and all over the airwaves.

Things seemed to be unstoppable for the rockers, still in high school. However, their follow-up, Nu-Clear Sounds was released in the U.S. over a year after its European release saw the light of day.

By then the European press had turned their backs on the band and Nu-Clear Sounds. Hoping to change the fate of the record in the U.S., Butch Vig (Garbage, Nirvana) was brought in to re-mix the record.

The record had a lackluster response in the U.S., too, with MTV and radio all but ignoring it.

But things started to look up for the band when they released their forth full-length, Free All Angels. Again, it was released over a year after the European release, but this time critics and fans embraced the record -- both in Europe and the U.S.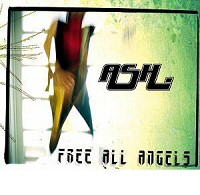 Re-building their U.S. fan base, the band toured relentlessly, winning audiences and critics alike wherever they went.
The band, quite pleased with their U.S. success, went into a Los Angeles studio to record what would be their fifth studio record, Meltdown.
However, setbacks seem to like to taunt the band, only to find the band becoming stronger as they overcome them. Their U.S. label, Kinetic went under. So, their European label, Warner Bros. put the record out on schedule. But a U.S. release wasn't slated -- and wouldn't happen for a year later.
"It didn't really bother us," says front man and principal songwriter Tim Wheeler. "All our records have been like that, apart from 1977, they've all come out a year later in the U.S."
With a new label, Record Collector (another Warner Bros. subsidiary), Meltdown was released in the spring of 2005 in the U.S.. Bridging the gap between the harder rock sounds of Nu-Clear Sounds and the pop side of Free All Angels, Meltdown is a catchy, melodic rock record that indie-rockers, fans of pop, and hard rock fans alike can all agree on.
The band sites much of the record's influence to the U.S., something I ask them about.
"We spent so much time here, seven months on the road. We hadn't really spent a lot of time here before. Also, playing with all the American bands," comments Wheeler. "We're used to playing big audiences at home, but over here, we really have to step it up and play our best, especially when you're playing in the supporting slot. You really have to step up our show. When we're over here we have to just play our best."
Ash, a huge band in Europe, plays to more modest crowds in the U.S. Something that they say made Meltdown a stronger record.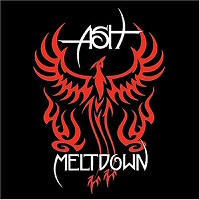 "You can do a shit gig back at home, and it doesn't matter, the crowd goes nuts. Then we'd come to the U.S. and play smaller clubs that weren't at capacity so we'd have to hold their attention, and not by fucking up, we'd do it by playing great," says bassist Mark Hamilton. "We had to start again. For awhile there nobody was coming to our shows."
"You just get complacent," Wheeler adds. "But, the success of Free All Angels gave us confidence again so we really wanted to adapt to it. We knew the only way to do that was to spend a lot of time here."
So they did, touring relentlessly in the states, before choosing to record in the U.S. at Sound City Studios with producer Nick Rasculinecz (Foo Fighters, Queens of the Stone Age).
Most bands wouldn't have had that conviction, that kind of dedication, the way Ash did. After all, they'd play sold out shows for thousands and thousands of people in Europe, and then they'd come to the U.S. and play to a respectable, but smaller audience of around two hundred per show -- if that. And though those two hundred people were rabid fans and quite enthusiastic, it wasn't the same.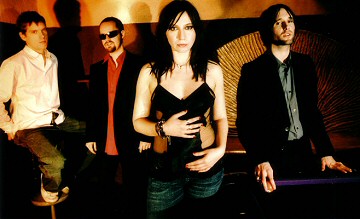 They did. And, it paid off. Free All Angeles saw a new dawn for the band, as they started to gain steam in the U.S. Then, another setback would happen. Their U.S. label folded and Meltdown was without a U.S. home.
But, Ash didn't worry about it. They kept positive, they tell me.
"It seems like we always have to start over in the U.S.," explains Rick McMurray, the band's drummer. "Before [Meltdown] was to come out, our label in the U.S. went under."
How did they deal with it?
"We were so busy on tour in Europe and stuff and didn't really think about it," says Hamilton. "We knew it would eventually work out".
Being signed to Warner UK afforded the band the luxury of knowing, eventually, a Warner-affiliated label would release the record in the U.S. That label would be Record Collector.
"We lost the momentum we had going [with Free All Angels]," comments Hamilton.
"Once we got here we realized there was still fans, but not as many, so we knew we had to build it back up again," Wheeler tells me.
And, building it back up is what Ash is doing, including a sold-out U.S. tour co-headlining with modern rock radio darlings The Bravery.
"Because we're touring with The Bravery, who bring in a different crowd, and we bring in a different crowd than them, each band [won over] new fans each night," Wheeler says of the tour.
But, a strong tour isn't the only thing that is helping them once again re-establish their U.S. fan base. A strong record is a big part of it and Meltdown is arguably the band's best record. Though it may not be as poppy as Free All Angels, and it is definitely not as hard or abrasive as Nu-Clear Sounds, Meltdown, for the first time, does a good job of capturing the band's live sound on record.
"Live we've always been heavier, even with Free All Angels stuff," Wheeler tells me. "With this record we wanted to capture our sound live and not do so many overdubs. And not do overdubs we couldn't pull off live."
When asked if Meltdown was purposely supposed to be a mixture of Nu-Clear Sounds and Free All Angels, bridging the gap between the two, Wheeler and the band think about it for a bit and tell me that, no, it wasn't. The more rocking, yet still melodic sound of the record came naturally.
"We just wanted to try to go somewhere new," comments Wheeler. "When we were writing stuff, and selecting songs for the album, we were looking at all the stuff that really rocked, so we pushed in that direction and wrote more stuff like that. It felt a bit different. We have a lot of different stuff going on that we haven't had before. Rick's drumming is a bit different. Charlotte is singing more, I'm signing in a slightly higher register."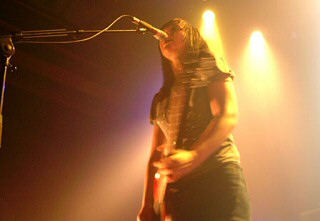 Lead guitarist Charlotte Hatherley, who recently released her debut solo album, Grey Will Fade on the European-indie Double Dragon Records, joined Ash in 1997, just prior to Nu-Clear Sounds. Since then, she has been becoming more and more of a force on record (she's always had a huge presence with the band during live shows). Part of her growth in the band finds her singing more on record, something she contributes to producer Nick "That was really Nick's [Rasculinecz, producer] encouragement," says Hatherley, when asked what made her sing more on Meltdown. "He kept telling me I should sing more on the songs, so I did".
Another thing that was new for the band was the entire band's involvement in the making of the record.
"It wasn't necessarily the writing of it, it was more the way it came together and everyone pushing themselves harder," shares McMurray. "I really pushed myself more on the drums. You can hear more individually personalities coming through. Tim still did ninety-five percent of the writing."
"It came together quickly," continues McMurray. "Because of the gap between Free All Angles, everyone was fired up. Instead of only having one or two songs after working together for a week, we had like ten songs. It was spontaneous."
"We were quite surprised," furthers Wheeler. "On previous records, we'd pitch around songs for four different versions until we got where we thought it was where it should be. But, pretty much, with the new stuff, they came together right when we started playing them."
One thing that the band is proud of is how they were able to experiment and do things on Meltdown they previously were unable to do.
"We concentrated a lot more on the way things sounded, like the sound of the guitars, and how the drums sounded. And a lot more experimenting," comments Hatherley. "You can hear the results, they're right there on the record. It sounds awesome," says an excited Wheeler. "We sort of sound like we always wanted to sound on record, but we've never been quite able to do, because we've never really had the knowledge to do it. And now we do".
The band is currently touring Europe in the summer, but will be back in the U.S. in the fall and winter.