The Bellrays
The Red, White & Black (Alternative Tentacles)
By: Jeb Branin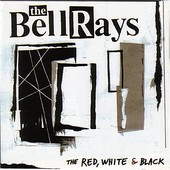 Wow. Let me say that again. WOW!!! THE BELLRAYS take the pure soulful passion of Aretha Franklin or Gladys Knight (think "Friendship Train", not "Neither One of Us Wants to Be the First to Say Goodbye") and graft it onto a garage rock sound that is fiery enough to get you up on your feet to boogie and raw enough to appeal to the punk crowd that forms the primary audience for Alternative Tentacles releases (think IGGY POP or any of the early pioneers of Detroit Rock).

Jello Biafra, who owns Alternative Tentacles, made a career of declaring himself as the alternative to 70s rock (and he was) but this is the second album of the year from Alternative Tentacles that has an early 70s vibe (ZOLAR X being the other).

I don't think Jello has changed his tune (pardon the pun), I just think ass kickin' EARLY '70s rock was not what Jello was rebelling against. And, say what you will but THE BELLRAYS and ZOLAR X definitely know how to lay boot to buttocks.