Unsane
Blood Run (Relapse Records)
By: Jeb Branin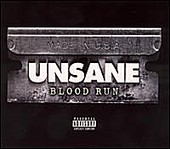 It's been, what, seven years since the last UNSANE studio album? With that fact nagging at the back of my mind I couldn't help but think Blood Run has got to be an amazing album to be worth an eighty-four month wait.

I needn't have worried. The supreme overlords of AmRep-vibe noise rock don't even hint at disappointing on these eleven tracks of blister inducing ultra-rock. I am tempted to say this picks up right where the classic Occupational Hazard left off, but frankly to say as much is to sell this CD short.

Blood Run doesn't have to rely on any of its predecessors for validity. One listen to tracks like Got It Down or Make them Pray and you will think you've died and gone to groove noise heaven (hell?). It is almost impossible while listening to this not to drop your head and start it banging while flailing your fists up, down, and all around. I only wish everyone could hear the promotional version of this CD. As an anti-piracy effort the label has split the eleven tracks here into 99 cuts. While listening to the album straight through it plays exactly like the regular release but with 99 tunes of varying length it is basically impossible to rip this album into digital format. The amazing thing is to put this on "shuffle" play and get UNSANE's songs chopped into random bits of noise. For most bands it would suck to hear an album this way - for UNSANE it is trippy beyond belief.