INTERVIEW: The Briefs
Humor and The Orange Alert: The Briefs on punk, humor, and life in general
By: Boone Stigall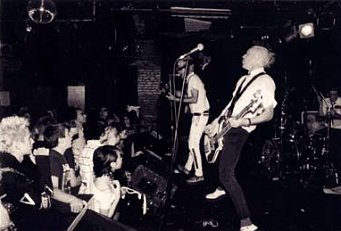 The Briefs are a band that's managing to carve a niche for itself within punk rock circles. In a relatively brief period of time, they've built a fan base by writing and recording a series of seven-inch singles and touring. It's a long way for a bunch of guys who came across each other while hanging out at certain DJ nights in Seattle clubs in the late 1990s.

"People who share a mutual love of certain types of music usually are drawn to each other. We all just really love old punk rock [and would] hang out, start playing together," explains vocalist Steve E. Nix.

Since then, the band has created a series of anthems built on driving power chords and in your face tempos. Direct and high energy, their songs manage to pay homage to the late '70 punk bands without totally sounding like a carbon copy of those bands. Part of this is due to the band's approach; they manage to write about topics ranging from outer space to girls, often with tongue in cheek. Whether they take on celebrities in the songs "Dolly Parton" and "(Looking Through) Gary Glitter's Eyes" (the latter referencing both the 70s glam rock icon and The Adverts late 70s punk classic "(Looking Through) Gary Gilmore's Eyes") or more serious topics on newer songs like "No More Presidents" or "Orange Alert", The Briefs keep their senses of humor intact, though the later songs may surprise some of their longtime fans.

"We just like to write about whatever we feel like writing about, there's no agenda," says Nix, "The way things are in the world and in the United States right now, it's kind of hard not to write about certain topics. 'No More Presidents' is not a real serious song but there is a reason why it was wrote at the same time.?

Nix doesn't consider The Briefs to necessarily be a political band, however.

"There's a lot of bands that really do write songs about what's so screwed up with the world these days, and it does make you think; some bands are out there trying to find alternatives. We'll let those people do it 'cause they do it better."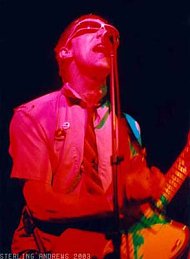 Because of the band's reputation, they have gained exposure touring with bands ranging from hardcore punk legends Youth Brigade to El Vez to Canada's own The New Town Animals (who even lent their bassist Steve Case to the band when Briefs member Lance Romance had to sit out an early 2004 tour due to "a bizarre bird watching mishap.").
It's an experience that has served The Briefs well, helping land them compilation appearances as well as new potential fans with each step. While another band might've coasted on notoriety like this, the band continues to focus on, in their words, trying to "write good punk songs"; preferring to avoid grand departures in favor of staying with their sonic vision.
With the summer 2004 release of Sex Objects, The Briefs find themselves at a new plateau. After releasing material on small record labels such as Dirtnap and Screaming Apple, the new album is released by veteran punk label BYO (who reissued the band's Hit After Hit and Off The Charts CDs in September 2004). Nix cites BYO's promotional resources and over 20 year track record as part of the reason for the move, but admits these labels are similar in that the band got a sense from the people there that love of music was more important than the business end of things. They also realize that it isn't always that way with every label.
"We've talked to plenty of other people in the music industry where you just can't see eye to eye with them," Nix explains. "You have no idea where they're coming from. You kind of figure they're in it more for business reasons."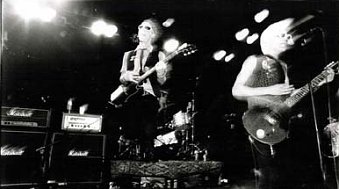 The Briefs closed out 2004 with a tour of Europe and are currently doing shows on the West Coast. The band is also in the planning stages of a DVD that should be released sometime in 2005, adding yet another opportunity to build a grassroots following. In an age where even punk music has become a commodity to be bought, sold, and discarded, bands like The Briefs are needed more than ever. This is a band whose update of vintage punk songs and humorous take will appeal to anyone wanting to hear something that rocks out but doesn't take itself too seriously.