Various Artists
Maybe This Christmas Tree (Nettwerk Records)
By: Alex Steininger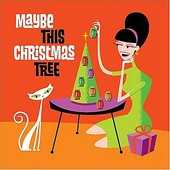 With Christmas songs from The Polyphonic Spree, The Raveonettes, Death Cab for Cutie, Pedro the Lion, Royal Crown Revue, and Lisa Loeb, among others, here is a good way to celebrate Christmas.

The Polyphonic Spree's Happy Xmas (War Is Over)", is a beautiful cover of Lennon's classic, the choir infusing new life into a song that most couldn't touch. But The Polyphonic Spree does a more-than-impressive version of.

Meanwhile, The Raveonetes' "The Christmas Song" evokes good tidings with a mid-tempo, laid-back rocker. Then there is Death Cab for Cutie's "Christmas (Baby Please Come Home)", a sad, dark Christmas song that puts an indie-rock spin on the holidays, and drives you to the bottle.

Pedro The Lion's "I Heard The Bells On Christmas Day" puts an emo spin on Christmas, while Royal Crown Revue makes Christmas a sultry memory with "Baby It's Cold Outside", with special guest Vicky Tafoya.

Others, such as Ivy and Jars of Clay, also appear on the album.

It is definitely not be the best Christmas record out there. Its diversity, from the emo of Pedro The Lion to the indie rock of Death Cab for Cutie, through the swing of Royal Crown Revue, and the radio pop of Jars of Clay, makes it even harder to swallow. Too inconsistent, too all over the map, and just too un-Christmas-y to make it a good Christmas record, I'll give it a D.