Parker & Lily
The Low Lows (Warm Records)
By: Alex Steininger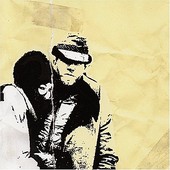 Taking the saying to heart, Parker and Lily truly turned lemons into lemonade with their latest, The Low Lows. Ending a 14-year relationship, the duo, Parker Noon and Lily Wolfe, continued on with the music and made their best record to date, a ten-track record of heartbreaking beauty.

Opening with the dark, moody title track, Parker's voice seems detached and remorseful, while the ethereal backdrop sounds hurt and aching. Following it with "I Am A Gun", the duo continues on with the dark, sparse, airy creations that instantly make you ache with their beauty, and their story.

But it isn't all gloom, even when it is gloomy.

"User's Guide" puts you in a trance with its glowing keyboard parts atop haunting vocals and pitter-patter percussion. Lily's backing voice seems to come straight out of the grave, spooking you with its ice-cold, but strangely friendly presence. And "Suit of Fire" finds Parker and Lily at ease, Lily's voice upbeat and cheery, while Parker's sadness seems to evaporate, even though he still detaches and distances himself from the music, giving the song an edgy contrast that instantly grips you.

Creating moody, eerie songs of sinister beauty, Parker and Lily's The Low Lows is as gorgeous as night, as cold as loneliness, and as real as life. It's a portrait of the good and bad, a meditative, soothing record that helps you find solace in the weirdest of places. I'll give it an A.