My Morning Jacket
It Still Moves (ATO/RCA Records)
By: Alex Steininger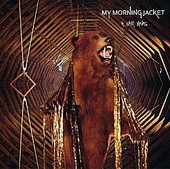 Taking their love of classic rock, psychedelic, and ambient music, My Morning Jacket has created a surreal, mesmerizing new breed of rock with It Still Moves. Preferring to let the songs simmer rather than blast them out, the songs on here have volume and powerful, they're just played more relaxed, more chilled, and oft-times softer, giving in to their gentle side of rock, still rocking nonetheless.

Whether it is the fairly tranquil "I Still Sing You Songs", which lasts more than nine minutes. The floating "Just One Thing", the southern rocker "Easy Morning Rebel", or the Roy Orbison-meets-Elvis "Golden", My Morning Jacket conjures up a deep record collection throughout It Still Moves- and doesn't fall short of their goals, either. It's a solid, well-rounded record with a lot of ambition, but a lot of follow-through, too. I'll give it a B+.