Strung Out
Exile In Oblivion (Fat Wreck Chords)
By: Vinnie Apicella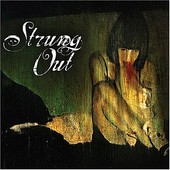 Strung Out's been crafting a fine variety of Punk Rock tension and Metal progression for over a decade now, that's equal parts So. Cal sweet and UK street. Since the beginning with their Fat Records debut, "Another Day in Paradise," up to their breakout "American Paradox" release a few years back, Strung Out's been honing their chops, increasing their intensity, and letting the musicianship lead the way. In a similar fashion to groups like AFI and Rise Against, Bouncing Souls and Pennywise, they continue to climb, musically and commercially, stretching the limits and setting apart from the glutted scene.

Exile In Oblivion is another step forward from where "American Paradox" left off, featuring 14 (fourteen-- they've been away for a while) memorable tracks of scorching guitar work, fast breaks, athletic scales, harmonies, and tight production, led by Slayer-renowned Matt Hyde who's clearly bled the most from this band that had much to offer in the first place. Subjectively, Exile In Oblivion's inner personal and dramatic, less the VOA but still socially observant and politically inquisitive. Jason Cruz's vox have never sounded better, well sung and smooth, magnified effectively and often during the chorus and verse, a strong dynamic to Strung Out's melodic sound and anthemic character.

By track 11, "Skeletondanse," one might expect they'd run out of steam, and instead they're still churning 'em out at a highly caffeinated pace sporting vintage Maiden riffs and semi-automatic drumming. Highlights include many: the catchy opening "Analog" and "Blueprint of the Fall," rock radio ready and highly adrenalized; "Katatonia," atmospheric and autumnal, "Vampires" and "Anna Lee" are catchy and more commercial, the former in much like a "Los Angeles" manner of the last album; "Never Speak Again" is the other of the two four minute tracks, rich and instrumental, but a rare occurrence when the chorus flails a bit.

If they cut back to 10 or 11 tunes this could be album of the year. As it stands, we'll grant 'em that; they were due a new studio disc and the songs are usually three minutes short. Exile In Oblivion is a welcome return from the band's three year exile.