Winds
The Imaginary Direction of Time (The End Records)
By: Jeb Branin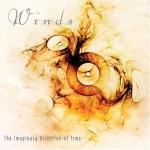 WINDS takes the integration of classical music and dark metal to new heights on The Imaginary Direction of Time. A string quartet and piano are featured prominently throughout the disc... to be honest, maybe too prominently.

A lot of bands plying their trade in this style often infuse enough classical music that it is to the detriment of the metal. WINDS may have crossed a line heretofore not crossed; that line being that the metal on this CD detracts from the classical music. There is simply no question that the strings and piano have the superior musical offering on this CD.

Even the fact that WINDS often tries to mutate their sound into prog rock (almost prog-pop) doesn't help. That isn't to say the metal on offer is bad, just that the classical music is better. Basically the band is upstaged by the guests.