Catheter/F.U.B.A.R.
Split CD (Self Made God)
By: Jeb Branin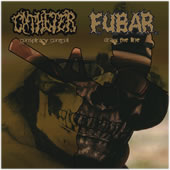 Long time crust-core cretins CATHETER team up with partners in grind F.U.B.A.R. to release a split CD that has prognosticators of the end of the world moving up their timeline. CATHETER play a knuckle scrapping and chop busting brand of crust that owes as much to grind as it does to Profane Existence. This is the type of entropic musical mayhem that launches pits so fierce that updating your insurance is probably a good idea before attending a CATHETER gig.

F.U.B.A.R., by contrast, are a much purer grind (which certainly doesn't translate into a purer music!!!). They have that absolutely frantic and unrestrained sound that borders on pure chaos. I bet the members of F.U.B.A.R. have spent more their fair share of hours listening to BRUTAL TRUTH records. Needless to say this CD would be a definite plus to any extreme music collection!