Bathtub Shitter
Wall of World is Words (Power It Up)
By: Jeb Branin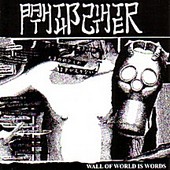 This is the overdue CD re-release from 2000. All tracks are re-mastered so you can more deeply indulge in every grunt, groan, and snarl. The CD also has bonus tracks as any self-respecting re-release does. If you are one of the unlucky few who has not stepped into the fecal tub, this is the perfect place to start. You get twenty minutes of pure grinding debauchery courtesy of a band that has both a sense of humor and an ardent dedication to spewing forth some of the most body bruising music ever recorded.

Don't make the mistake that many do of thinking that this is a one-trick pony. These gurus of grind are actually quite adept (and arguably diverse) in their delivery. One minute they will be methodically plowing through a mid-paced growler and the next they'll ratchet things up into a blendercore frenzy. Then they'll go the opposite direction and downshift into powerhouse sludge rolling along at the speed of continental drift. Enjoy (I dare you!).