M. Ward
Transistor Radio (Merge Records)
By: Alex Steininger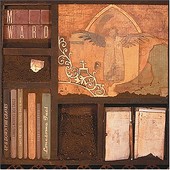 Portland-based singer-songwriter M. Ward, on his second release for Merge Records, explores his fascination with radio through his indie-leaning, dark, melodically-rich post-folk offering, Transistor Radio. From "One Life Away", which sounds like it could have come out of the thirties or forties, to the sparse "Fuel for Fire", M. Ward's deep, silky voice drops you into a slumber, while his weeping guitar sparkles, the strings adding a late-night scorch, and the occasional piano adding a buoyant dazzle to everything.

"Four Hours in Washington" puts a little rock into the picture, its danceable, Texas-bred style turned retro by Ward's infusion of folk, all played with his refreshingly sweet darkness.

"Radio Campaign" is about as straight forward as Ward gets, delivering up a pop song buried underneath his dusty prairie-branded folk. Which is something Ward does well, writing beautiful pop songs that dazzle and amaze, Ward's captivating lyricism another stunning element of the song, all while he plays down the hooks in favor of a shyness that is both enduring and charming.

One could call this late-night, dark folk-rock for the wandering minded, or simply indie-folk, but Ward is so much more than all of that. As Transistor Radio exhibits, Ward delivers spellbinding, captivating songs regardless of genre, time, or substance, spinning intelligent lyrics alongside equally articulate guitar patterns that leave even capable musicians in awe. I'll give it an A+.