Little Sue
Shine (Bathtub Lily Music)
By: Alex Steininger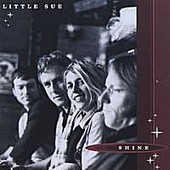 Singer-songwriter Little Sue never fails to amaze. On her latest, Shine, she truly does, offering up a drinking man's cocktail of country-rock and folk-pop.

From the sorrow of opener "Drunk", Sue Weaver quickly gives you tunes to cry in your beer too. But it doesn't stop there.

"In Spite of Everything" is another slice of lyrically smart, vocally dead-on, heart-on-the-sleeve emotions that rip right into the listener as they pour out of Weaver. Whereas, the title track's laid back, folk approach is gentle and uplifting, one of the album's shining points with a better outlook on life. Meanwhile, the folk-rock of "A Happy Picture", despite its title, paints the picture of broken-hearts and searching for love that listeners will latch on to and quickly call their own.

"Sweet and Tender: The Mexico Song" is both sweet and tender, a delicate balance between intimate folk and cozy country, Weaver sounding positive and upbeat, the backing vocals helping to warm your soul.

Little Sue may not be a nationally recognized name -- but she should be. Shine is yet another feather to put in her cap, a well-written, well-executed record that is honest and pure, melodically rich, and as warm and inviting as they come. I'll give it an A.