Pet Swan Project
Watermelon Pie (Wolfbeat)
By: B.F. "e-Mole" Mowat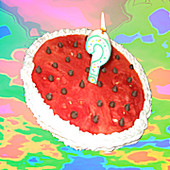 The Pet Swan Project is the solo vehicle of Mistress Wylde Swanda, the leader of the thoroughly fabulous, Flamingo-gos. The FGG's are a six-tease styled all-femme garage-rawk outfit straight outta Brantford, Ontario (where the first phone call was made!), Canada, and are worshipped by all the wild diggers (both of us!) in Canada.

That won't really help you wrap yr wee brain around this baby, though. Sure, there's some sublime moments of fuzzed-out garage guitar splendour present ("Ain't Gonna Be That Way") but this is essentially soundtrack music to a thoroughly groovy movie that was never made. Ergo, the sound goes all over the freakin' map: from jay-uzzish keyboard instros a la Brother Jack McDuff to blissed out psych-pop (title track) to moments where , I swear, the overall effect approaches Kraut-rock, albeit unconsciously so (thank God!).

99% of what you hear on this disc is the Swan herself. Her first instrument is keyboard, and she's nimble on that. Matter of fact, she should play it in the FGG's, if you ask me! She's also pretty hot on the gee-tar, bass, and whatever other stringed instruments were used. And while her technique on the wind/brass instruments can be described as being heavy on the "beginner's enthusiasm", it adds a certain je ne sais quoi to the proceedings. I've played this at least 16 times, and I payed peanuts for it,so I give it an "A-" for entertainment value. Sociologists may note: there's a vegan theme running through this, but that shouldn't stop reprobate carnivores from diggin'it!