Ditty Twisters
Pinata Baby (Dirty Girl Records)
By: Alex Steininger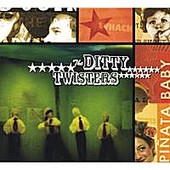 On their second full-length, Portland, Oregon's six-piece the Ditty Twisters take things further with Pinata Baby, an album that utilizes the three female vocals and drum-bass-guitar set-up to a tee, never wasting a moment in the energetic, fun-time, party rock musical they create. Infusing the music with roots rock and surf, here is a band that knows how to party and have a good time, creating sexy tunes in the process, including the AC/DC cover, "Whole Lotta Jose", which features additional guitars by Audio Learning Center's Steven Birch. Not to mention tracks such as "Rodeo Queen", the band's standout roots-rock piece, the title track, complete with a surf vibe, and "Take Me", the band's straight-ahead rocker.

Though the record is good, the band has always been a live spectacle, controlling the stage and making you want to be a part of the show. And though they sound decent, if not good, recorded, the CD lacks the energy of their live show. Still, there is plenty of energy here to hold you over until their next live show. Or, if they never come to your market, enough energy to make you a fan. I'll give it a B-.