SHOW REVIEW: Slayer
November 11, 2004 - The Roseland (New York)
By: Vinnie Apicella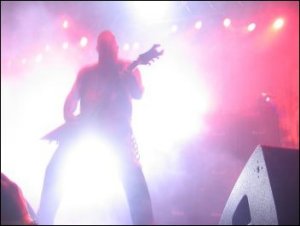 The crowds were lining up around the block for this one; the Jagermeister Music Tour, amongst the more extreme of Metal music gatherings, headlined by a still unstoppable Slayer, and two mighty up and comers, Killswitch Engage and Mastodon. All three bands pummeled the capacity crowd - when they weren't pummeling one another in the pits - with the openers playing somewhat economical sets following the strict standard of the allotted time schedule. Mastodon, touring for their Leviathan album, was well received, or at least had the honor of not hearing "Slayer!! Slayer!!" chants during their set. Mixing power, some speed and instrumental progression, rare in the days of heavier is better and soloism on the decline, Mastodon's tough and tuneful mix proved a worthy opener. Roseland was nearly full for the Relapse band's set, and about six tunes later, they left with a roar, flattening the front and center dwellers like a packiderm on the prowl before the quick change stage set led to Killswitch.

Killswitch Engage, touring their Roadrunner release, End of Heartache, is amongst the more metal-core variety, highly intense, chaotic, melodic, and modern sounding. The crowd grew a little bit larger. It was nearly standing room only by the time they trailed off. The waves of general admission goers sauntered off to patronize the Jager stand, drink, pee, buy, and bullshit with their neighbors during the thirty minute wait for the still reigning gods of darkness to descend and lay waste to an already weakening stage and the as yet un-punctured eardrums of anyone within twenty feet of the speaker stacks.

All throughout, fans were treated to between set entertainment compliments of "The Lizard Man". For those who aren't familiar, he goes by this name for good reason; short of having an actual tail and walking on all fours (though give him time, he's nearly covered everything else!), this sideshow castoff covered in lizard green ink, fangs, two-pronged tongue, and piercings in places most could never conceive, he performed outlandish, sadistic stunts for our visual entertainment. Just prior to announcing the upcoming bands, Mr. Lizard would use his chest as a dartboard, his nipples as elastic bands, and his septum as a conduit for cleaning condoms - he would then gulp glasses of Jager and incite uproarious crowd response at the site of his own self-inflicted torture.

One thing about a Slayer show; it makes no difference who the opening act(s) are, when Slayer's about to go on, no one leaves or lingers around the toilets to smoke. It's front and center, and standing room only, save for the semi-circles where the slamming takes place. There are few bands that can command the respect that Slayer can, and during their entire 90+ minute set, no one left; the place was packed and ready to crumble!

The original forerunners of speed metal and thrash, and still-reigning kings of the extreme took the stage in all their unholy splendor amidst the disturbing opening theme "Darkness of Christ" that led straight into "Disciple", both from their last God Hates Us All studio record. However their current tour, which follows up successful shows on the earlier Ozzfest tour amidst select dates with Slipknot, was to promote their latest DVD release, Still Reigning, which features the entire classic Reign In Blood set along with some additional die-hards from two decades ago during the age of echo and reverb. Hard to imagine Slayer's been going some 20 years now, and from the deafening sound of things, haven't lost a step in presentation or intensity. Skill, professionalism and sheer aggression were in fine form as the band ripped through many from their entire catalog, showing no mercy and no sign of slowing, and disappointingly, neither "Divine Intervention".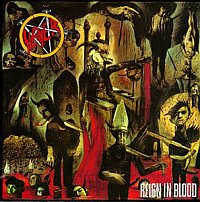 There wasn't much between song chatter or illusionary gimmicks to split attention from the music, as Slayer fired at will from the speed metal weaponry they originally created back in the burgeoning Bay Area scene with the likes of Metallica, Exodus, and Megadeth. Unlike some of the others, and this goes far in explaining the absolute loyalty this band commands, they have not slowed up, sold out or stripped down, effectively proving why they know no equal even as the extreme Metal scene continues to up the new age aggression/gross out factor.
In the background of the sizeable stage hung three large banners with the Slayer eagle logo fronting the familiar pentagram, but the biggest compliment to the massive amplitude spewing forth were the blinding white lights that pierced through the darkness to raid our pupils like a continuous round of semi-automatic spurts flashing one after another in synch with the band's deafening beat, laid out superbly by original drummer Dave Lombardo, who handled much of the newer material surprisingly well.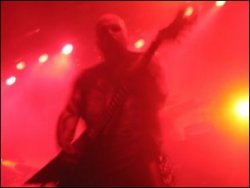 Slayer wasted little time digging in for old, if unexpected, standards like "Hell Awaits," "Fight Till Death," and "War Ensemble," both of the former being from way back in the Metal Blade days, which, as if anyone needed any prodding, really sent elbows, knees and boots in the air. Araya's antics onstage were maniacally-driven, constantly hunched over throwing his head in a circular motion, and hair flying, when he wasn't planted in front of the mic screaming his guts out. An unlikely tender moment occurred when Araya acknowledged Veterans Day and the band, paying homage to those manning the frontlines, cut into "Mandatory Suicide," toning down the intensity momentarily, yet still jostling the crowd who formed an even bigger pit for the closest thing to, dare it be said, a ballad, that Slayer's ever approached. Yet that's the effect they have on people. Only this one leaves scars, not tears.
Near the conclusion, Araya approached the crowd to take requests, and after shooting down nearly every one of them with a "nope," "can't do that one," they went back to "Hell" and did "Necrophiliac."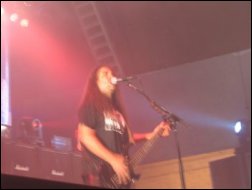 "Necro-f?ing-philiac!" Where'd that come from? Nearing the end they brought out the expected show stoppers like "South of Heaven," "Season in the Abyss," and, three minutes later, the "Angel of Death" appeared, like it had to. And as they cleared the previous backdrop for an offshoot of their "Reign in Blood/Still Reigning" cover art, Henneman and King began their furious riffing, followed by Araya's death wail, and before long the blow was devastating. But the highlight came two songs later; after polishing off "Post Mortem" they stormed quickly through "Rain in Blood," a closer which for select shows triggers a literal blood raining effect that douses the band before they salute the fans and slip out the back leaving a blood stained stage and sweat-soaked crowd in their wake.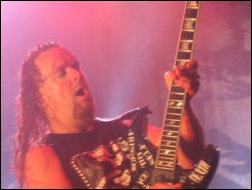 Few from their era can still play with the kind of energy and integrity as they. Slayer's music, in fact their very existence, not that further vindication is needed, has become all the more relevant due to the resultant failures in recent years of yesterday's metal heroes sadly fallen by the wayside in favor of following than leading. Slayer has been and always will be the hands-down leader of extreme Metal in all of its crude and continually evolving forms. It was Slayer in their finest and fittingly darkest hour.