INTERVIEW: P*S*K
New School Punk Rock meets ElectroClash
By: Jett Black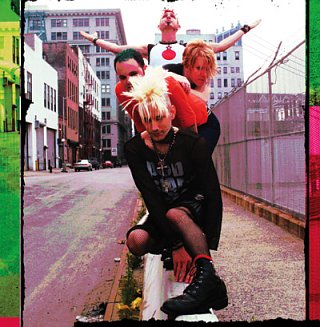 New School Punk Rock meets ElectroClash in the The Revenge of [Pop Star Kids]. P*S*K storm NYC music venues week after week raining down bubble gum pop for Glam Punks, crossover kids n the underground, and (in general) the young at heart rock and roll music enthusiasts. Check out their latest music video, "People Make Me Lonely", available now at http://www.popstarkids.com. If audio is all you need, test drive five new P*S*K favourites, four more songs from previous P*S*K recordings, and two songs from P*S*K unplugged collection. All of that and MORE! Get it all the free downloads right here and now while enjoying the following music interview, the latest word direct from P*S*K...

IMWT: So far, it sounds like P*S*K have been making their own destiny with spotlight accolades from MTV, CMJ, and (more importantly) the almighty P*S*K Fan Club! And, from the appearance of the "Friends of PSK" photos page, I'd say that P*S*K has some very fashionable and smartly attractive looking friends!

Andee: That's right about the fans being most important. Really, the only kind of accolades we care about are the kind that come from real people who love music. The people who come to our shows are not scenesters; they're genuine, fist-in-the-air music lovers and they are there to have a f*cking great time. And yes, they look fabulous.

IMWT: Andee, you own 28 Motorhead albums? You're not a fan, are you?

Andee: Yes!! I can't say enough how much I love Motorhead. To me they are pure rock and roll. Motorhead's music is like a basic food group to me -- it is absolutely essential. It's like fiber. I hope to be like Lemmy when I get to be his age -- he's absolutely timeless.

IMWT: Johnny, in your bio, you wrote: "I was born in Massachusetts and moved to New York in 1995." I'm certain that ALL P*S*K fans are just dying to know just HOW do you plan on celebrating your tenth birthday?

JB: I will celebrate with a big glass or 6 of wine and a resolution to never sleep on a fold-out couch for an extended period of time ever again....

IMWT: Johnny, okay, seriously, now-- Which is your favourite Doctor Who?

JB: Tom Baker, but I was really into Sarah Jane Smith (who was that actress anyway?).

IMWT: Andee, What bugs you most about Atlas Shrugged?

Andee: It is endlessly preachy, heavy-handed and way too f*cking long. The characters are cartoonish cliches. It's a real turn off and a big disappointment -- if you've read "The Fountainhead" then you know that Rand can tell a great story while make an incredibly powerful point. "Atlas Shrugged" just beats you over the head with her philosophy for about a billion pages.

IMWT: Clancy, behind the drum kit, you must be the heart-throb of the P*S*K fan club! (Who are no doubt glad to see you lost the mullet!) Okay, step into the way back machine and re-live the moments you spent killing those gastro-intestinal butterflies and singing (WHAT SONG?) with the almighty STING! Tell us about!

C: I got pulled up on stage at a Sting concert in '96, and sang "I'm So Happy I Can't Stop Crying" with the former Chief of "Police" himself. It was an amazing moment. 15,000 people attended that show.

Andee: I think Sting is a big, pretentious, adult-contemporary bore. Love the Police, though!

IMWT: Clancy, can you still whoop-ass on B-Ball, or what? Won anything new lately?

C: No. That was a one time gamble.

IMWT: Andee, regarding Madonna's "Reinvention" tour; Why attend three shows in one week? Please give us the highlights from your perspective.

Andee: Because if Madonna comes to your town for a full week, you don't squander the opportunity! Even better than the NYC shows was the one we saw in London a month later. Highlights? "Vogue," "Music," "Holiday," "Don't Tell Me," "Express Yourself"...too many to name. Universal, transcendant, beautiful pop music.

IMWT: Glenn, while comparing the P*S*K bios, it would seem that maybe you're the wallflower of the band. Is this true? Is P*S*K rocking your world? How do you strut your stuff for P*S*K fans?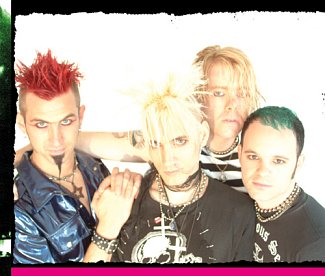 G$: Wallflower? I've been called many things. A wallflower probably isn't the most accurate description. I like to dance, and play, and sing...all sorts of things.
Being on stage with P*S*K is very powerful. The energy and force between the 4 of us is electric.
As far as the strut? I've learned how to play the tambourine real well. It's a beautiful instrument, and gives me tons of joy playing it every night.
Andee: Glenn is anything but a wallflower. Forget strutting; you're more likely to get a backflip.
IMWT: So, what's next for P*S*K? Tours? Jump out of a cake with machine guns in hands? (During Bush's next State of the Union address, of course.) What's on the P*S*K horizon?
Andee: Making music like sugar sugar...until we're dead.
G$: The future is a mystery . perhaps another killer record on the horizon.
IMWT: What about the behind-the-scenes struggles? Has it all been worth it so far? Or, not at all?
Andee: Worth it!
G$: We've started to play our music outside of NYC, and it's interesting to see the response and sometimes confusion on people's faces. When people can't immediately put the band in a box and figure out what we are, there's some resistance. But I think that's also part of the charm of the band. Certain people embrace that. We've been influenced by so much, by so many great performers and musicians, It's all in our music.
Coming home and performing in New York City is like magic.
There's so many hired gun type bands out there, especially in New York. It's refreshing, we're not one of them. Andeez written amazing tunes. Playing and executing the material live never gets old for me. So, I guess I'd have to say, ALL worth it.
JB: There have been little struggles...the usual struggling rock band crap, but up to this point, it has been worth it not to compromise a thing.
IMWT: What about day jobs? When the P*S*K stops waving, and the sunlight hits your face again, where do you go home to? What sort of jobs claim your immortal souls? Or, do you actually manage to make ends meet as underground Pop Star Kids?
Andee: No day-jobs! We're all lucky enough to be able to make ends meet doing things we love; three of us are full-time musicians and one of us does video editing. All on a free-lance basis.
G$: i continue to make music during daylight hours.
JB: I thought this was about the band...not our boring day jobs....I'll take the fifth on this one.
IMWT: Name one thing that you desire most.
Andee: To write a perfect song. For humans to stop being ignorant, greedy, hateful and violent. For the expression "you rock!" to go away forever.
G$: That's difficult. I have many desires. At the moment, creating new tracks is high up on the list
JB: To be able to play our music and make a living solely from it would be cool.
C: To play Madison Square Garden and then break up.
IMWT: Whom should you give thanks to now and why?
Andee: Anyone who supports us in any way.
G$: Every live performance that's ever inspired me to want to play better.
JB: Our great fans because they come out and support us in a clogged-up NY entertainment scene and buy our CD the world over.
IMWT: Just what more does P*S*K really need to be "complete"?
Andee: We could use some more money and manpower...otherwise we are complete.
G$: Another role of gaffers tape, an extra extension chord, a tiny little flash light, a bigger stage for my set up, a K-station that functions, and maybe... A tour through ASIA
JB: We are complete right now. IMHO, when you start thinking otherwise, that's when you are sure to fall short of completion.
IMWT: And now we come to that point in our imaginary program where you get to plug any upcoming P*S*K events, or any other events not related to P*S*K that you really want our readers to tune into--.
Andee: It should be pointed out that we have officially shortened our name to P*S*K. We have outgrown the name pOp*stAr*kiDs, and, besides, we're f*cking sick of people thinking we're a boy band.
Otherwise, all upcoming P*S*K events will be posted on our website.
IMWT: Okay, want to talk politics? If so, go ahead-- start knocking down the walls! Whatcha got to say now that the U.S. Presidential election polls have closed?
Andee: There's not enough room here to express my frustration about what's going on in our country and the world right now. If you care to hear my opinion on such things, I have a blog (surprise!).
C: I can't even speak. The whole thing is an embarrassment to the world.
IMWT: Final thoughts? Shout outs? Take it away, P*S*K!
Andee: Boycott mediocrity, support authenticity. Be yourself!
G$: a shout out to our live sound engineer - Brian Quil!! "what uuup!!"
IMWT: Please list now any and all locations where our readers can discover MORE about the music and glory of P*S*K.