Crank Yankers
Complete First Season (Comedy Central)
By: Alex Steininger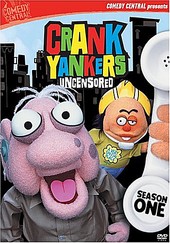 I saw all the Crank Yankers season one episodes when they aired - and loved them! So when I got this DVD, I was highly entertained watching them again, and being able to re-play them for friends who may have missed them.

But, what made this DVD a true treasure for me was the Dial 'T' for Torment: A Mini Documentary, which had good conversation and insight from Sarah Silverman and Jim Florentine, as well as Adam Carola and Jimmy Kimmel.

Dial 'T' for Torment: A Mini Documentary, a bonus feature on the disc, really made the DVD for me. Giving me insight into how Carola and Kimmel created the show, how Jim Florentine got hired, and how the show is made, from the details that go into the puppet, to how the puppeteers handle their puppets for the show and respective calls that go with them.

Comedy Central has hit a home run here. And though this show's novelty will wear off soon and last three seasons, four at best, this classic first season will always remain in my heart - and many others. And through this DVD, you'll be able to experience it long after the show is off the air.

I'll give it a B.