Robert Roth
Someone, Somewhere... (Pattern 25 Records)
By: Alex Steininger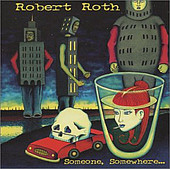 Former Truly front man Robert Roth's debut solo record, Someone, Somewhere... is a rich, beautifully bold pop album, calling upon the psychedelic sounds of Truly, if ever so subtly, while also forging its own path away from his former project. Still, when the magic is there, it's hard to escape what you're best at. Roth does a grand job though, delivering hook-laden, off-the-beaten-path late-night pop with "Vicki and Jacky", acoustic- guitar and piano blossoming pop on the title track, and deep, slumbering space-pop on "Lightning & Thunder".

This is the perfect end of night, winding down record to play before bed, or to mellow out with after a hard day's work. It's got enough rock in it to keep you on your toes - if you want - but is subdued and picturesque enough to keep you firmly planted on your can while you listen to Roth relax you and release your tension. I'll give it a B+.