Lindsay Smith
Were You Prom Queen? (Fruitbat Music)
By: Alex Steininger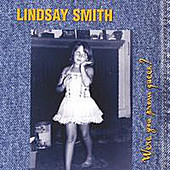 On Were You Prom Queen, singer-songwriter Lindsay Smith trades off between loose, jangle-y pop and folk-rock, creating a rough and tumble, diamond-in-the-rough record that has plenty of momentum and fun going for it, but seems lost in translation.

Smith is best when she's writing the poppy rockers, such as "One Fish Two Fish", its bouncy appetite quickly becomes infectious, while songs like "Are You Sleeping?" and "Love & Airplanes" are too tender, too soft to really let Smith's better half shine. "I Don't Like Drinking" is one of the album's higher moments, with Smith trading back between power-pop and indie-rock.

When she's going for it - energy, hooks, and happy-go-lucky, loose grooves - she seems on her game. But when she's trying to be the introspective, folk-based singer-songwriter, the holes in her songwriter are gaping and she falls prey to the generic world of folk-rock singer-songwriters. I'll give it a C.