Audio Learning Center
Cope Park (Vagrant Records)
By: Alex Steininger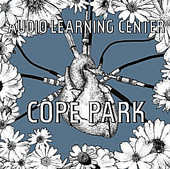 Cope Park came out back in March. Audio Learning Center is one of my favorite bands, and somehow I had the CD everywhere but at home (well, it was in the car a lot, but...), so I never put it in my scheduled pile to review it. As such, it got passed over until now.

For any other record, I would chalk it up to an error and pass on it, waiting until the band's next record to get a review in. But, Audio Learning Center deserves so much more. They deserve to be taken to the next level, to have headlining tours, and a solid fan base that is eagerly anticipating their next show, their next album, their next move.

So here I am, reviewing Cope Park, the Portland, Oregon trio's sophomore record, months after its release. So, please bear with me.

Cope Park picks up where Friendships Often Fade Away, their debut, left off.

Cope Park is darker. It's a sadder record (not that Friendships Often Fade Away was a happy record), and it showcases the band's talents more, following the band's rigorous touring schedule and support for Friendships.

"California" finds front man Chris Brady reliving the pain of his brother and his death.

Brady's lyrics pour out of him with such agony and regret, while guitarist Steven Birch lays down raindrop-like guitar notes, before ripping into some chunky chords for the chorus, giving the song a dark texture, while drummer Paul Johnson's steady drum beats hold the saga together.

But, the album doesn't start off on such a sad note. The pop nugget "Waking Up With Eyes Still Closed" recalls a happy, fresh start on the morning, opening up with a piano, before crashing into a full on rock attack.

From there, the album pulls at the heartstring, as the title track will attest to. A buzzing indie-rocker, the song screams with volume, Brady's trademark vocals recalling a sad tale of a young woman and her decline.

"In The Sun" cheers you back up again with a beautiful, soaring, melodic happy-go-lucky song about redemption and re-birth, leading you into the biting "Stereo", another one of Cope Park's sad tales, opening with the line, "sad song, you've got your stereo on" and echoing "I needed you more than you needed me" in the chorus, nearly bringing tears to your eyes.

The verses of "Stereo" are light, but building, Birch's guitar offering a subtle backdrop, while Brady and Johnson deliver a steady rhythm that walks you into the heart-stopping, shattering chorus that knocks you on your feet.

It is one of the album?s most melancholy moments amongst melancholy moments, Brady?s lyrics telling the tale of someone struggling through everyday life and everyday life?s most common bumps, with more than your average agony and regret. Or, rather, expressing the agony and regret that others are unable to.

This is one of Brady, and thus the band?s greatest victories, their lyrical bite, opening up doors and speaking for the listener who is going through the same emotions. But the musical technique behind the band, and the compositions, are nothing to scoff at either.

?Car?, ?You Get That From Your Mother?, and ?Passenger? show the band?s ability to be subtle and jarring, as they take you through some rocky, rocking moments, keeping things on the verge before going all the way and ripping right into the pulse of the song, the volume blasting and the cathartic anger soothing the soul and helping to erase the scars that tarnish the heart.

The album ends on a sad note, despite the song?s title. ?Happy Endings? is a sullen song with the chorus ringing the phrase "If love is stronger than truth, then I'd rather live my lie?.

After a few straight ahead rock songs, ?Happy Endings? is the perfect way to end the album, it?s mellow, depressing vibe sadly beautiful, melodic and memorable, strong enough to make you reach for the box of Kleenex and lyrically rich enough to pass as a cheap, aural therapist to help you mend wounds of your own.

Cope Park was the album that was supposed to make it for Audio Learning Center, put them on page one, and make them a flagship band of the Vagrant roster. At least, that is what came to my mind after hearing the record.

However, only five months after its release, it seems Vagrant has pulled the plug, and sucked the lifeblood out of the band, who are back at home, working day jobs, and taking it slow on the next record. Let?s just hope there is a next record because Cope Park is the kind of skillfully tearful record that takes awhile to absorb, but once you do it is stuck in your head ? and CD player ? and will become on of your favorites.

Its sad fate mirrors its sad tones. But if the saying is true, whatever doesn?t kill you makes you stronger, then hopefully ALC will top themselves again in the future, as they did from Friendships to Cope Park. I will give this an A.