Eagles of Death Metal
Peace Love Death Metal (Ant Acid Audio)
By: Brad Halverson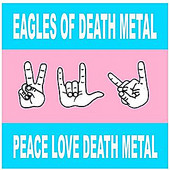 The thing with rock music at the moment is that everything needs to fit into some specific scene. It's refreshing then that the first Eagles of Death Metal album is so absolutely out of step. They're not trying to be anybody they aren't and even their faults help flesh out who they really are. Take that hideous album cover for instance; baby pink and blue? It's just stupid looking! But why does it fit the album so well? And the name of the band itself. They don't sound like the Eagles and they sure as hell aren't death metal, so why does the name just seem right? It's rock and roll, friend. That's all the band is selling and that's all I'm asking for.

Eagles of Death Metal is the brainchild of singer/guitarist J. Devil Huge (aka J. Everett Hughes) and Queens of the Stone Age front man Josh Homme (aka Carlo Von Sexron aka Baby Duck) on drums. And that's it save for a couple guest musicians, including an appearance by former Queens bassist Nick Olivari. You could try to describe the thing as the White Stripes meets AC/DC meets a generous helping of southern rock but that'd just be stupid.

Somehow avoiding gimmickry that these kind of projects seem to inevitably lead to, the whole album ends up being really entertaining. Even when things seem undeniably jokey, the band remains on such sturdy musical footing that it always avoids falling into novelty act status. In fact, it pulls that feat off even better than The Darkness. This here is a real band folks, proving once again that good rock music can be funny, serious and everything in between. Thematically the album deals largely with AC/DC style debauchery. This includes lusting after lovely young lady types ("I Only Want You", "Whorehoppin"), Satan ("Kiss the Devil") and perhaps most importantly, just rocking out (The amazing "Speaking In Tongues"). Elsewhere the band effectively embraces southern rock stereotypes in songs like "San Berdoo Sunburn" and stoner rock in "Flames Go Higher". The fact that these songs arrive in the year of our Lord, 2004 and still sound original and new is quite a feat. Plus there's a faithful cover of Steelers Wheel's "Stuck in the Middle with You" which somehow manages not to suck. Good show, guys.

So the band lives up to it's name by not really fitting in anywhere, and it's all the better for it. Detractors may claim that it isn't serious enough, or not polished enough (though that's exactly what I like about it) but honestly the only thing to complain about is one or two filler songs that probably could have been left out such as "Wastin' My Time" which nicely lives up to its title.

Overall though this is an excellent first effort and it's one of the most refreshingly unique albums I've heard this year. It's nice that the band has name recognition in the form of Homme since this oddball record deserves to be heard by (in the words of the band's official website) "those who truly love to dance, be sexy, rock 'n' roll, and boogie woogie." Good times abound.