INTERVIEW: Victim of Modern Age
Like your rock intense, smart, complicated? (Vicitm of Modern Age's web site)
By: Chris Dick



Like your rock intense, smart, complicated? Check out Louisiana's Vicitm of Modern Age. And read this Q&A with singer-guitarist Allen Clements!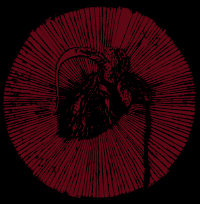 Chris Dick (for In Music We Trust): What were you doing before you were so rudely interrupted for this interview? What would you rather be doing?
Allen Clements (singer/guitarist of Victim of Modern Age): I was washing dishes. THANK YOU!
Chris Dick: It's funny, if it weren't for my trust in Clint, I would've written you guys off as another sensitive punk/emo/whatever band that takes itself too seriously...based solely on your name.
That said--Lie down on the couch and tell me how that makes you feel-- What do you think about the fact that this sort of curt dismissal happens? What does it say about the state of music, where it becomes easier by the day to, after no more than a cursory glance at a CD cover, to paste generalizations on bands?
Allen Clements: Damn, I thought our name superseded that musical archetype but I suppose we sort of fell in because of it. I'm lying down on the couch and I'm reaching down down into my deepest thoughts. I'm trying to clear my mind like a chessboard after a shitty game.
Okay--breakthrough! Basically, I'm discovering within myself that people will think what they want when they hear a band name. We hope that our reputation will eventually precede our band name. Our music is at least a little better than our name but I happen to like Victim of Modern Age. It sounds good and it feels right and appropriate.
I know this is said in every interview with every band.. but seriously, there are SO many bands right now. People can't help but generalize. That is why we just have to try that much harder to get heard... hopefully every time we're played on college radio, the name is announced after the song. That would be choice.

Chris Dick: I was actually very happy I took the time to check out your EP, and channels like capillaries. And it sounds like most everyone else was happy they took a chance, too. Why do you think that is? What is it about VOMA that you, yourself, like and think your fans appreciate about the band?
Allen Clements: I'm really glad that you enjoyed it. We get mixed reviews. It's a matter of taste. I think that most of the reviews have pinpointed that it's our versatility and honesty that they appreciate more than anything else. This last record was quite a mix of styles and feelings. If it weren't for us being strangely linked, they might even sound mismatched. I like that VOMA has that common thread and that versatility at the same time. I think our fans appreciate that too. We also work really hard and long on songs before we perform or record them. If they're no good we throw them out. We're not about to waste your time.
Chris Dick: Your music is emotional, but not whiny. At the risk of sounding clich?, you rock, like Rush if they were light a few brain cells. As such, you're somewhat more accessible than prog rock bands, but less likely to be something a superficial little emo kid can hold near and dear...you know what I mean? So--how about a few words on the fine art of being sincere, but also rocking balls? We've spoken about writers who miss the point, but what about the bands who do the same (albeit in a different sense)?
Allen Clements: Man you seriously make me blush. I like how your comments about music are giving but not free. Does that make any sense? I appreciate them.. honestly.
As for your question, I think what you mentioned is the position we strive for. It's that clich? "I want people to like my band but I don't want to cross that line where they like my band because it's cool.

However, when we are on the road or recording or just practicing our motives are usually a little selfish.. and I like that. We genuinely have a good time and know that enjoyment is why we are doing it.. Universal Warning Records is so super comfortable in this respect. They aren't so jaded by the record industry so that we aren't either. It makes us really comfortable enjoying what we do. This way we don't have to be concerned with getting a huge record contract that would limit what we need to survive.
You know.. music is bread, water and oxygen to us. I want it to stay that way.