INTERVIEW: Propain
Heavy metal's street lethal freedom fighters (Candlelight Records)
By: Mike SOS



Never relying on trends and always staying tried and true to themselves and their brand of music has always been the way for Propain, the NYC-based hardcore metal troupe who've survived all of the movements in rock music and continue to get stronger in the process. When speaking to singer/bassist and band founder Gary Meskil via email, everything from the band's unique perspective on politics to rock scenes across the globe were discussed. Touring plans for the band and a roundup on its latest release, the explosive Fistful of Hate, was also on the agenda, as Gary gave some insight on ideologies and beliefs from a band with perhaps the staunchest and most successful DIY work ethic since Fugazi.

Mike SOS (for In Music We Trust): Describe how the new album all came together, any new processes or approaches?

Gary Meskil (Propain's singer/bassist and band founder, via e-mail): The writing process was a little bit more of a collaborative effort than previous records, and a large amount of the recording was done in our new studio (Crimelab Audio) in Sarasota Florida. We wanted to achieve a "state of the art" recording for Fistful of Hate, and we also wanted to experiment a bit more with our style. I think we succeeded in those regards.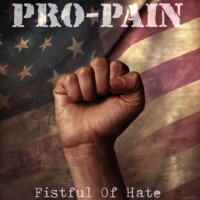 Mike SOS: What does Fistful of Hate have that previous albums lack?
Gary Meskil: A better production, a live energy that is sometimes difficult to capture on tape, and even more precision than is offered on some of our tightest releases. We are very proud of this record.
Mike SOS: Where do you find more enthusiasm, USA or Europe and why?
Gary Meskil: I've seen equal enthusiasm from both. However, the main difference is that Europe has a healthier live music scene (in my opinion). Underground music is in good (and professional) hands in Europe, and I can't say that's true for the scene here in the States.
Mike SOS: Tell us about your involvement with Heavycore.
Gary Meskil: We met Heavycore founder Pete Altieri a long time ago at a gig in Ill. while touring the U.S. Heavycore is a grass roots effort, intended to help underground bands help themselves via helping one another. We support Heavycore 100%. It's one of the few things in this business that you can actually rally behind and feel good about it.
Mike SOS: How does coming from the NYHC scene impact your music?
Gary Meskil: I think coming out of NY has impacted the way we approach everything. We have a New York work ethic. It has made us direct, streamlined, and focused. Mike SOS: How has remaining an independent band helped or hurt you?
Gary Meskil: It has helped us stay in control of our music and has kept other fingers out of the cookie jar (so to speak). In doing so, we have taken away some of the incentive and motivation (i.e. $$$) for labels/partners to make a genuine effort to sell Pro-Pain records. So, remaining independent has certainly had its pros and cons. The "corporate" scenario would have increased our profile while lining the pockets of others. The "independent" scenario has allowed us to make a living for ourselves and our families, but the profile of the band has remained more underground.
Mike SOS: How do you feel about the current state of metal today?
Gary Meskil: Is that the place between France and Germany, or Switzerland and Austria? All joking aside, metal always seems to come around full circle (like most genres). Ironically, our most successful records were released when metal was out of favor (early-mid 90's). We hope grunge makes a comeback so we can be on top again (hehe).
Mike SOS: What do you do during your time away from Propain?
Gary Meskil: I spend most of my spare time with my family, going to the beach, playing sports, recording local talent, and tending to other business ventures unrelated to the music business.
Mike SOS: What has been your most memorable gig to date?
Gary Meskil: The first time playing the Dynamo Open Air Festival in 1996 in front of over 100,000 people was the most memorable for me. It was the first time playing in front of such a large crowd, and it was a big thrill for us.
Mike SOS: How do you feel about the current political climate in the United States?
Gary Meskil: I feel nervous about U.S. politics right now. I'm afraid if we don't make a change fast, the U.S. will lose it's middle class, lose our spot at the top of the global food chain, and maybe even find ourselves in World War III sooner than ever imagined.
Mike SOS: What's your favorite Propain song? Least favorite?
Gary Meskil: That's a tough one. I suppose if I had to pick a favorite song it would be "I Remain" because it strikes such a personal chord with us. The lyrics to "I Remain" speak well for the spirit of Pro-Pain and our spirit is one of our strongest attributes. My least favorite Pro-Pain song would be "All Fall Down". The song captures a lot of cool elements, but ultimately came off to me as being one of our few "filler" tracks.
Mike SOS: Whom would you like to tour with that you haven't yet?
Gary Meskil: I'd like to tour with any band that would help us reach listeners who haven't heard us yet. If I had to name a few: Hatebreed, Rollins, Slayer, Motorhead, AC/DC, etc.
Mike SOS: Why do you think heavy music gets less exposure in America than in Europe?
Gary Meskil: I don't think heavy music gets less exposure in the States. It's just that the scene is dominated by a select few nu-metal bands who are signed by majors, and everything else is underground. I think Europe supports it's music scene more than the U.S., including underground bands with no money behind them. That's part of the reason there are many more "heavy" bands touring Europe than in the U.S.
Mike SOS: What does the rest of 2004 look like for Propain?
Gary Meskil: We will tour Europe again in September, and we hope to tour the US before years end. I expect we will be writing some new material as well, so stay tuned!
Mike SOS: What advice would you give to aspiring musicians?
Gary Meskil: Here's my advice (not in any particular order): Make music you believe in, enjoy it, and be sure to pay attention to the business end of things!