INTERVIEW: Katrina Carlson
She's a mom, a pop singer-songwriter, and a diplomat specializing in nuke weapons (Katrina Carlson's web page)
By: Chris Dick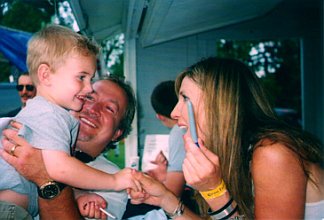 She's a mom, a pop singer-songwriter, and a diplomat specializing in nuke weapons. Sounds like the premise for a bad show on the WB, but such is the reality of Katrina Carlson.

Chris Dick (for In Music We Trust): You have impressive credentials that qualify you to do such important work, but you chose pop music...why?

Katrina Carlson: Interesting you'd ask. I was raised with a strong social conscious and work ethic so choosing as a career as a singer/songwriter was not in my realm of options as defined by my family's philosophy. It was far too frivolous! I was the youngest of eleven kids and there were no instruments in my home. At age 9, I said I wanted nothing else for my birthday but a piano and, fortunately, my parents found me an inexpensive one. Still, music was not an acceptable career path, so it was always an extracurricular activity for me and I never took it too seriously.

Shortly after I graduated from Brown, however, I had a death in my family that caused me to re-evaluate how I spent my life day to day. At the time, I was interning for a Senator on Capitol Hill and I was fairly disillusioned by the special interest, big money controlling so much of what happened there. I realized that music and the arts were my passion and what made me truly happy so I decided then to immerse myself in those pursuits with the same fervor that I approached my more "serious" ones. Still, I try to incorporate my values in the way I live, in my songwriting and in performing for benefits and causes that I believe can help society as much as possible.

IMWT: Politics, diplomacy and weapons are rather heavy subjects, so I can't say I blame you for choosing music. But since the prevailing theme of your songs seems to be enjoying life-not taking it too seriously-would it be safe to assume the gravity of International Relations and nukes was stifling to your spirit?

Katrina Carlson: That's a good supposition, but it really is that my writing is largely about healing myself and others. Yes, it's a form of therapy for me. Yikes! Honestly, I often write about that which I find hardest to face such as wrestling with questions, fears, and emotions. I am a person who, in the deepest sense, feels that what I do makes a difference on some scale. That, no matter how small, what I do is still significant--how I choose to live my life, treat people, vote, where I shop, and what I choose to say I believe all have an affect on the world. I also have a strong sense of feeling privileged and blessed by what I have and a responsibility to be a good steward of my gifts.

On top of that, I was raised Catholic with all the trappings of guilt and lofty morality issues. All this contributes to making me fairly tortured by my faults and shortcomings on a daily basis. Lucky me! As a result, I write songs that remind me to give myself a break and not take life too seriously... So my carefree songs are my way of letting go and aspiring to be happy-go-lucky so as not to go crazy! I also believe that I'm not the only one who needs to be reminded to enjoy life so I hope that my songs strike a universal chord as well. Man, I'm long-winded!
IMWT: Would you still consider yourself a diplomat of sorts? That is, would you ever consider combining your two specialties? I've heard lines here and there in your songs that seem to broach on the subject.
Katrina Carlson: I think I'm doing the best I can at the moment and I'm always looking for new ways to utilize all of my gifts. I believe they're mine to give and not mine to keep, so if you have any ideas, I'm open...
IMWT: Now, are you actually financing your own releases? If so, that's dedication! How do you swing it, much less find the time to work, with kids to take care of?
Katrina Carlson: It's virtually impossible; but, I look for the joy in trying to balance it all. It's a huge blessing most of the time. My family takes precedence over everything so sometimes other things can suffer. But, I have amazing people at my label who believe in me and understand my vision. I love you Gregg and Mindi! I also have a husband who supports me fiercely and loves seeing me pursue my dreams. My children are proud of me and enjoy my music. My career allows me to model following one's passions and a strong work ethic for them. Financially, I am able to swing it at the moment, but it's always a struggle. Fortunately, I happen to find beauty in struggle...
IMWT: How determined are you to continue working in music? Do you envision yourself ever "falling back" on the "day job?" It's a helluva alternative, I might add. Or do you think you'll branch out into other areas of the music business?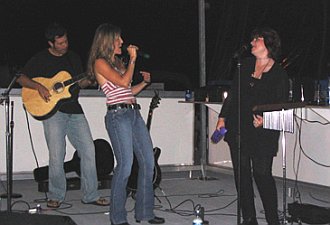 Katrina Carlson: I believe I am entrenched in the music biz! Although, I'm definitely not opposed to acting again because I love it, as well. I just think something would have to fall in my lap in order to stop doing what I'm doing now. In the future, I would love to sign other artists to Kataphonic Records...
IMWT: What advice do you have for other people who may have chosen the apparent high road instead of following their dreams, as you have?
Katrina Carlson: It doesn't matter what you do, it's how you do it. Do whatever you do with pride knowing that it is not more or less important than any other job. Wherever you find yourself, there you are. Be good to yourself and those around you... Just be nice, damn it!