INTERVIEW: The Figgs
From new record to touring with Replacements Tommy Stinson, you gotta love The Figgs
By: Alex Steininger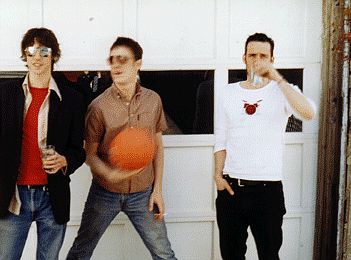 This year, 2004, the power-pop/rock 'n' roll outfit The Figgs celebrated their seventeen anniversary as a band by releasing their eight full-length, the double-disc set Palais. Having toured as the supporting act for Graham Parker since 1996. And having The Replacements' Tommy Stinson as a long time fan, eventually asking The Figgs to act as his backing band and open his tour in 2003. Not to mention a trail of label deals that have had many pegging them as the next big rock 'n' roll band for some time. With Palais The Figgs have stepped out on their own, using their critical acclaim and impressive fan base to make a record on their own terms, on their own label.

"Tommy Stinson was at our first L.A. gig in 1994," recalls bassist/vocalist Pete Donnolly. "I remember looking at him and going, 'who is this guy who thinks he's Tommy Stinson?'

"Our tour manager went up to him and gave him a CD and he said he already had it, and that's why he was there, at the gig. We hung out after the show and he said he always liked Mike [Gent]'s guitar playing. And that he always wanted to do a project with Mike."

We continue talking about Tommy Stinson, being the obsessed Replacements fan that I am.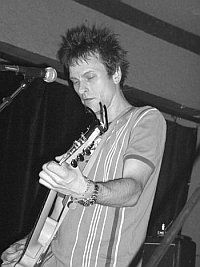 "He then asked us if we wanted to open for him, and back him, on one of his tours," he continues. "We said yes and did it."
However, support Graham Parker and Tommy Stinson, The Figgs are good at being the backing and supporting act for veteran songwriters. What they're learning to do is run a label, releasing Palais on Soda Pop, a co-op label that has found The Figgs at the helm of their own career, playing label head and artist.
"We ran our course with John, who runs Hearbox," Donnolly said of their previous label, Hearbox Records. "We count on our catalog being worth something some day. This is our tenth release [including EPs] and if we own twenty-five songs, it's better that way."
The band made the 2-disc set, pressed it up themselves, hired a publicist, and found distribution.
When asked if they worried if a 2-disc set would be too offsetting for those that weren't familiar with the band, Donnolly shrugs it off and says, "No, I don't think so. We sell it at shows for $20.00, which is only $10.00 per disc, and we keep it around $20.00 in stores, so I think the consumer is getting a good deal".
A prolific band, having more songs than they need on hand at any given time, guitarist Mike Gent suggested, after listening to the band's 30 songs, that it should be a double album. Always wanting to do a double album, nobody objected, and the band went ahead with their plans.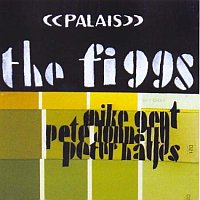 "I was totally happy with it when I was done," proudly states Donnolly. "I don't like every song, but I love it as a whole. I see it as two discs. Someone asked why we didn't put both discs on one album. And that is because we felt they should be broken up. Can you imagine twenty-five short songs on one record? It would be hard to listen to, but they're great as two separate records together."
Trying to steer myself away from Stinson, I couldn't help it, and I ask Donnolly if he feels backing Stinson, or Parker, has helped the band reach more fans than the would have otherwise? To which Donnolly tells me he has mixed feelings.
"Everybody loves The Figgs, that's all I seem to get, but it never translates into people or sales," disappointment cast over his voice as he tells me this. "I'm not complaining, I love where we're at. We have to live with the hand we're dealt. As far as press goes and getting tons of attention, being a good band, or a cool band isn't enough. You have to get beat up by the lead singer of a famous band, then people pay attention to you".
He takes a few breaths and then tells me, "I'm not trying to be self-deprecating, but backing Graham Parker and Tommy Stinson, it seemed to only get ten fans. It may really be two hundred, but when we're out there touring, it seems like ten. One person will yell, 'I saw you with Graham'. That rocks, don't get me wrong. But we played a sold-out show with Tommy in Chicago and our show was rocking and people dug it. And then we went back ourselves and there was nobody there."
Donnolly goes on to tell me that moral isn't low, they accept it, they just find it strange, and therefore have come to the conclusion that press and critical praise doesn't sell records, but he's glad people speak so highly of the band.
I then ask him what the band is up to now, and touring is a big part of it. Though Donnolly admits that they have plans to go into the studio soon to work on outtakes for some singles, and that he hopes to work on a new record soon.
"We would be making another record now if we could afford to do so," he says as we're ending our conversation.
Critical praise and rave reviews may not sell records, but for those lucky enough to see The Figgs live, or to hear them on disc, will know why they're getting praise. And then will go buy their records. For it is The Figgs music, not a gimmick and not a clever press angle, that will sell them on you.