Karlophone
Press Any Key To Begin (Amorphous Records)
By: Alex Steininger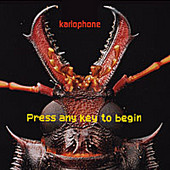 The fifth member of Weezer, Karl Koch, the man behind the band (webmaster, DVD producer, archivist, and much more), steps up front as Karlophone, releasing his debut album Press Any Key To Begin, on indie label Amorphous Records. But, Press Any Key To Begin isn't what you'd expect from a man so closely associated with Weezer. It's not power-pop, it's not modern rock, and its not... it's not instantly catchy or sugary in any way. It's the Anti-Weezer, if you will, but is equally completely and beautiful, its complexity and ingenuity as alluring as Weezer's sharp hooks and digestible delivery.

Mixing plenty of samples with an experimental, electronica-meets-the-kitchen-sink-of-rock delivery, Karlophone creates something that is one part hip-hop, one part electronica, one part rock, and seven parts experimental wanderings.

Press Any Key To Begin is an apt title for this sound collage, an audio ecstasy trip that is safer and more rewarding. Whether you're in it to hear what the behind the scenes man for Weezer sounds like. Or because you like music that is on the fringe while also being smack dab in center of pop culture, Karlophone offers up a tasty treat sure to get your mind thinking and your ears perked for something that is as challenging as it is fun. I'll give it an A-.