Phil Angotti and the Idea
Flower Bomb (Jam Recordings)
By: Gary "Pig" Gold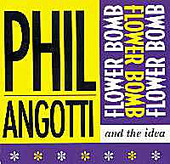 I first became aware of the one-man pop force which is Phil Angotti over a decade ago, when he and his Idea sent their "Sideways Smile" cassette all the way up to my lucky Canadian address. Well, I'm STILL listening to that item (the utterly other-worldly "Janet Smiles" track especially) --but now, thanks to those good folk over at Jam, I have a full three quarters of an hour's worth of fresh Ideas to savor.

You bet, "Flower Bomb" makes melodic contact with all of the precise musical cornerstones it should (Turtles, 20/20, Crowded House, "Undun"-era Guess Who even), but in Phil's hand -- and especially voice -- such past masters only serve to flavor, never overwhelm, the all-original compositions or arrangements. The basis throughout is the man's guitar-driven m.o., all six strings captured vividly here on disc as really only the Grip Weeds can as well anymore it seems. (P.S.: which reminds me to remind you to SEE Phil perform on stage, solo, with only his lone guitar accompaniment sometime! Sheer bright magic).

Sparkle the program with three strategically-inserted little mini-title-songs ("Flower Bomb One" a nod to "Ram"-era Sir McCartney, "Flower Bomb Two" to its Beach Boy counterpart "Sunflower," and "Flower Bomb Three" a true Pink Lennon "Magical Mystery Wall" concoction) and conclude as only Pete Ham would with the epic "Too Late Tomorrow," and one's faced with yet another true treasure from Phil Angotti and his nothing but good, good Idea.